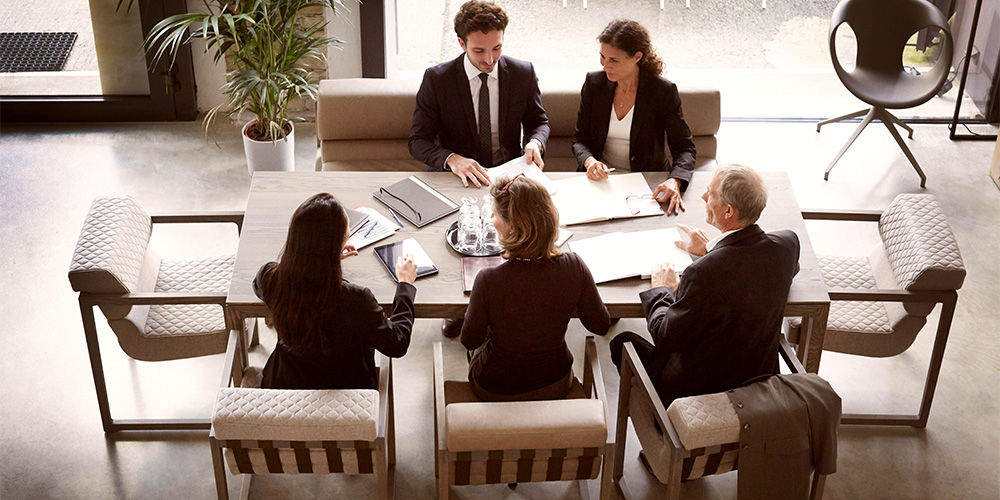 Staying ahead of ever-evolving money laundering activities, regulatory requirements and international financial crime authorities' expectations.
Subscribe to our mailing list
Receive the latest insights, news and more direct to your inbox.
Combatting money laundering activities presents many challenges for financial institutions: they must balance the obligations of staying up to date with ever-changing requirements, which vary in complexity per jurisdiction, against the increasing cost of compliance.
Creating and implementing watertight Know Your Customer (KYC) procedures can be problematic for many organisations since the process remains a people-driven, manual operation. In an ever-changing AML regulatory environment, financial institutions find it increasingly challenging to strike a balance between KYC regulatory compliance, positive customer experience and operational efficiencies.
Common KYC Implementation Challenges
Financial institutions attempting to implement sustainable KYC and CDD programs often struggle with a variety of issues.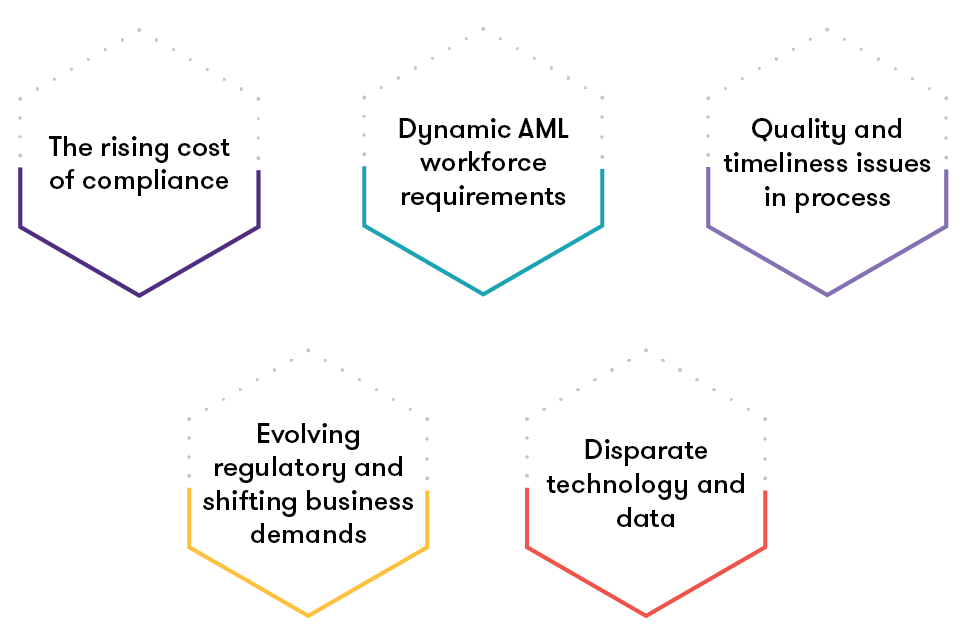 Based on our understanding of the market, our clients' experiences and information gathered from member firms across Grant Thornton's global network, up to a third of financial institutions are completing KYC tasks manually rather than leveraging RegTech solutions. Up to 40 percent also face large KYC due diligence and refresh backlogs. Given these statistics, it is not surprising that as many as 50 percent record KYC as a major component of their overall compliance costs.
Many financial institutions still rely on manual and outdated onboarding processes and struggle to capture the comprehensive client information required to meet their regulatory obligations. As a result, they fail to implement best-in-class Customer Due Diligence (CDD) and Enhanced Due Diligence (EDD) procedures, which may prevent or catch money laundering activities, and must undertake intensive, expensive KYC remediation programmes.
Grant Thornton's KYC managed service approach removes the common pain points faced by financial institutions during KYC Refresh programmes and puts clients on a path to maintaining sustainable KYC best practices.
Removing the Pain Points from KYC Refresh
The rising cost of compliance for routine tasks often distracts financial institutions from higher value-add risk management efforts. When assisting your business with a KYC Refresh project, Grant Thornton removes this worry, assuming all responsibility for managing the Refresh with a more cost effective delivery model than the financial institution. Our clients also realise further cost reductions over time as our innovative technology solutions scale and achieve additional process efficiencies.
During a KYC Refresh, financial institutions can struggle to consistently deliver high-quality, accurate and reasonable KYC records. Our KYC Refresh playbook drives continuous improvements, and, by staffing onshore delivery centres with globally experienced KYC professionals who have first-hand knowledge of regulatory requirements and leading industry practices, we help our clients complete their KYC records to the highest level of compliance.
Financial institutions struggle to maintain an appropriately sized and experienced workforce to meet Refresh deadlines. The combination of Grant Thornton's global footprint and local experts gives us the flexibility to scale up and down to support ad hoc projects. Our scalable operations also extends to other KYC functions, such as onboarding, screening and transaction monitoring.
We help organisations overcome the challenges of outdated, slow and disparate legacy technology that is unable to respond in a timely manner to the regulatory landscape. We provide clients with technology that consolidates data, centralises workflows and houses reporting to improve operational processes, oversight, consistency and efficiency.
Our KYC Refresh Programme
When launching a KYC Refresh programme, our approach consists of three sequential phases. We quickly mobilise the KYC Refresh effort, rapidly industrialise and scale production and identify areas for continuous improvement.
In phase one of our KYC Refresh programme, we deploy teams to set up the program management framework, validate and schedule the Refresh client populations, refine processes and document end-to-end interaction using our bespoke client onboarding AML/KYC platform called valid8Me.
Valid8Me addresses common KYC review challenges by enabling efficient case management and workflow automation. The system supports document and ID verification, customer risk rating, workflow management and reporting. It can also be tailored to meet specific client requirements.
The Benefits of Using Valid8Me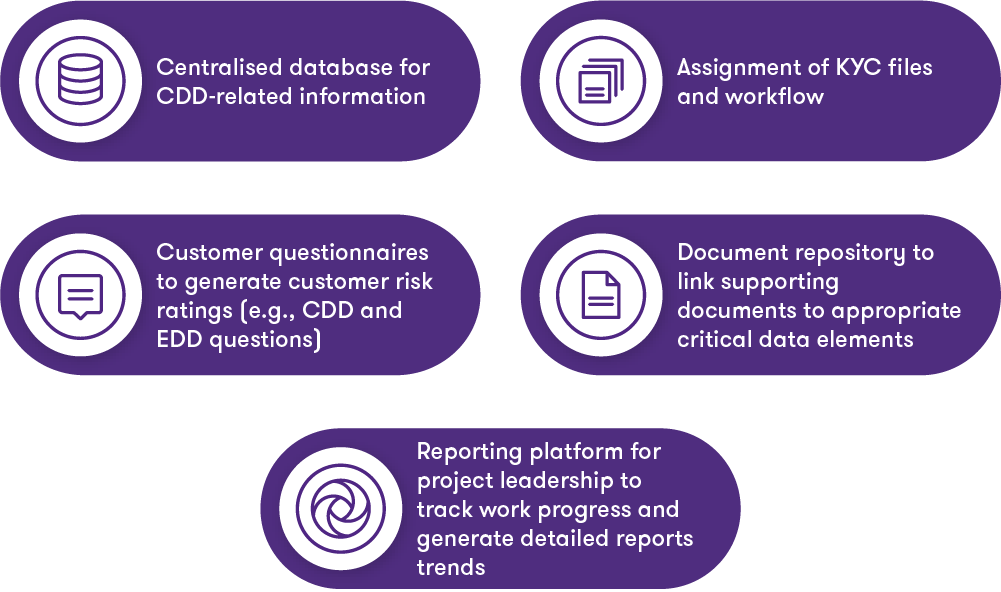 After we've mobilised the KYC Refresh effort, we begin phase two in which we scale operations. We review the pilot results and determine the talent model and location strategy needed to grow operations to the desired scale. We'll also provide a combination of virtual/onsite training to support your KYC staff with continuous on-the-job learning.
After we've scaled operations, we'll begin our continuous improvement phase. We'll assess on-going processes and invest in opportunities to further enhance throughput and quality. We'll measure the overall outcomes of the remediation process, the effectiveness and efficiency of the KYC process execution, individual performance and the success of KYC reporting procedures so that we can determine strengths and areas for further improvement.
Mobilize & Pilot
Execute pilot to validate key assumptions, test processes/enabling tools & ensure quality.
Program management set up.
Population analytics and scheduling.
Finalize KYC standards and requirement matrix including acceptable forms of documentation.
Benefits
Validate key process assumptions and baseline case turn times.
Identify roadblocks (if any) to achieve scale of operations.
Scale Operations
Achieve desired scale by leveraging our agile talent pool.
Review pilot results to grow operations to achieve the desired scale.
Establish an approach and team structure to provide coverage.
Benefits
Flexible approach towards achieving desired scale.
Ability to leverage a larger pool of KYC talent.
Continuous Improvement
Identify opportunities to enhance the outsourced service capability.
Assess ongoing processes and invest in opportunities to further enhance throughput and quality.
Drive efficiencies by exploring further solutions offered by Grant Thornton.
Benefits
Ongoing reporting insights to optimize outsourcing.
Additional efficiencies and opportunities to support longer term cost management solutions utilizing Grant Thornton's enabling tools.
Both KYC remediation and ongoing Refresh exercises can be intimidating, but they don't have to be painful. By partnering with Grant Thornton and accessing our significant KYC Refresh experience, organisations can become and remain KYC compliant while delivering a positive experience for their customers.
Contact Us
At Grant Thornton, our financial crime team has extensive experience in managing KYC remediation. Our subject-matter experts are due diligence specialists who provide flexible AML and KYC solutions that will enhance your customers' experiences while maintaining a robust risk-based approach to compliance. If you would like to discuss your AML/KYC needs, please contact a member of our financial crime compliance team or your usual Grant Thornton contact.