Publications
Aviation Advisory: Innovation delivered
Read more
Experts in Aviation Finance
The Irish Government continues to enhance Ireland's position as the number one place to do business within the aviation industry through robust legislation, comprehensive tax agreements and an unrivalled community of aviation professionals. There has never been a better time for aircraft lessors, airlines and financiers to be located in Ireland.
From an industry prospective, depressed fuel prices has meant older aircraft remain viable and recent access to the capital markets has given rise to cheaper credit. The result is a more competitive environment for lessors and consequently, reduced rental rates and returns on investment. The long term trends for the leasing industry remain positive, with favourable Revenue Passenger Kilometres (RPK) growth estimates and the continued shift among airlines to pass on residual risk to lessors.
At Grant Thornton, we have been immersed in the industry throughout a relatively recent period of unparalleled growth. Through the vast experience we have gained, we offer leading expertise across our aviation advisory, aviation tax and aviation audit service lines.
We have extensive experience on every aspect within the aviation financing industry, from assisting new entrants on joining the market, to ensuring exit strategies are designed and executed to maximise investor return while managing risk. We are uniquely positioned to assist our clients on all aspects relating to their business-as-usual activity, enabling clients to optimise their operations within a controlled environment.
Our aviation team consists of experts that are accomplished in working as a successful cohesive unit. Engagements are delivered in a highly efficient manner through effective communication and governance structures.
A focus on aviation advisory means that we are ideally placed to not only review existing operations, but to make value added recommendations and execute change.
Our team has worked with the world's leading aircraft leasing companies and airlines.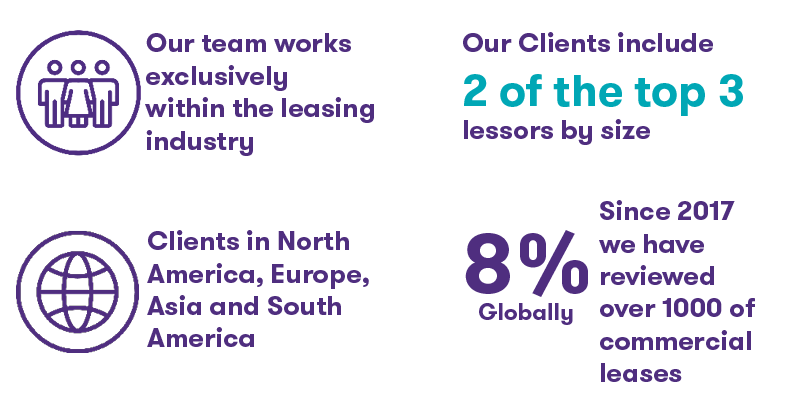 Aviation Tax services
At Grant Thornton our Aviation tax team provides a single point of contact that works directly with local country teams in member firms globally. Your single point of contact will coordinate international efforts, handle inquiries, resolve conflicts, negotiate fees and ultimately ensure that Grant Thornton exceed your expectations. Our services include: