Over the last decade, sustainability has evolved from an environmentally focused discipline to a key driver of business strategy, while responsible investing has become a mainstream expectation rather than a niche concern. The need to embed sustainable practices throughout the economy is a result of multiple factors including compliance, consumer demand, investor pressure, operational necessity and employee engagement, with the pace of change only set to increase.
More than a year into the UN designated 'Decade of Change' we have already seen a plethora of policy and regulation relating to sustainability. The recent COP26 conference coupled with the Biden administration's desire to re-establish a US leadership role in climate change have built on this foundation. This is mirrored by the EU President's flagship policy, the 'European Green Deal', with a climate law, and planned revisions of a range of associated policy instruments and new proposals. Included in these plans are the draft Corporate Sustainability Reporting Directive which, if adopted, will require an additional 40,000 European companies to report audited ESG data. At a local level, Ireland's first five-year carbon budget has outlined sectoral decarbonisation target ranges and pathways which will influence investment. The next years will see 'business as usual' models challenged like never before, with the impacts of regulatory changes aimed at dramatically reducing greenhouse gases at the fore.
Our Services:
We recognise that businesses are operating at different levels of maturity when it comes to sustainability, and pride ourselves on working with our clients to develop bespoke solutions to their exact needs. The prize that awaits those that can adapt to this new reality is a resilient business that can capitalise on the opportunities this change will bring, contributing to a better future for all stakeholders. We can assist your business with: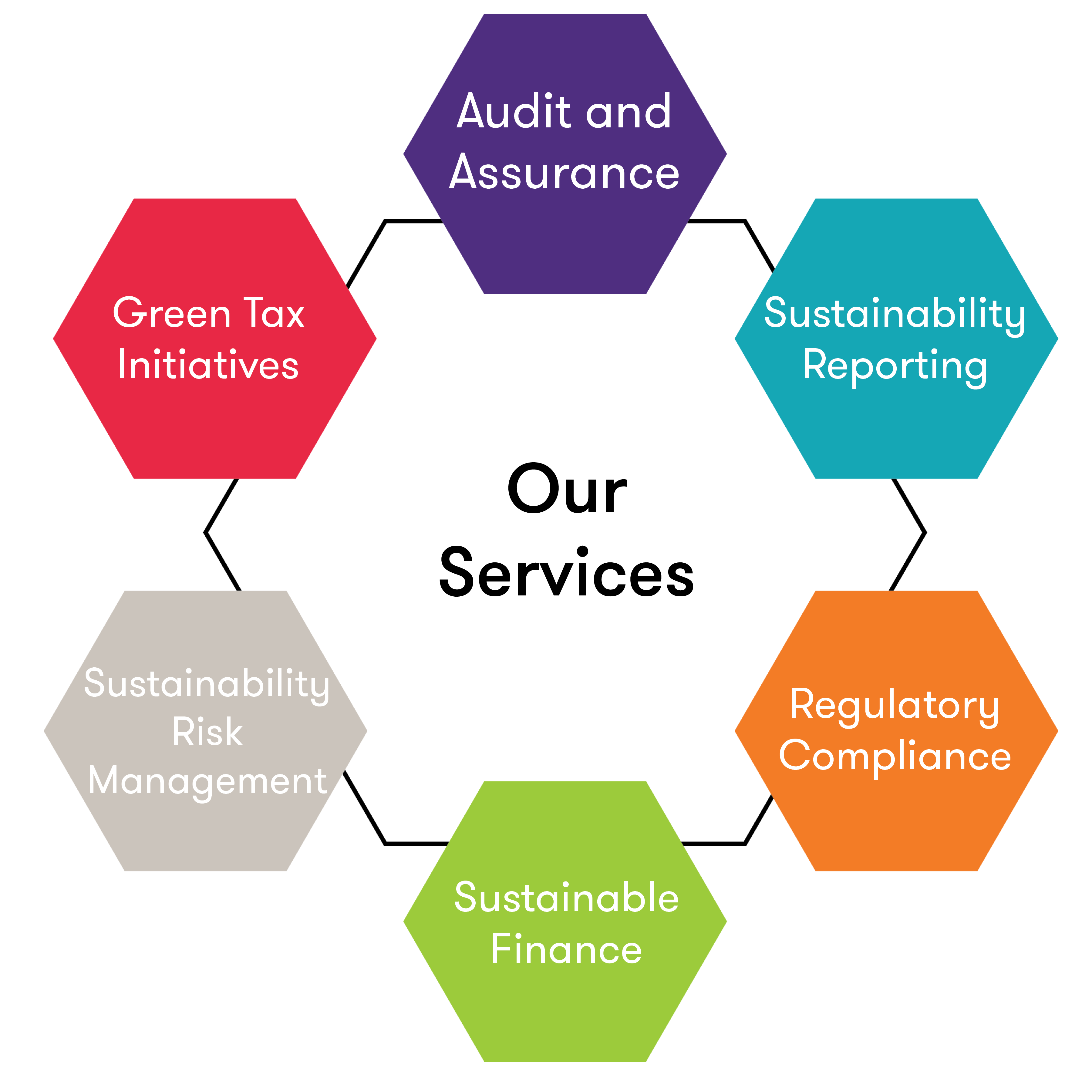 Why Grant Thornton
Grant Thornton's expert team offer a wide range of services and have a unique blend of sustainability and professional services experience. We can support businesses seeking to establish a market leading and value adding sustainability position, businesses trying to better understand and comply with emerging regulations and businesses who want to be more sustainable but are unsure where to start.
Our initiatives:
Sustainathon 2020
Sustainathon was an initiative put together by Irish Funds and Grant Thornton in the form of a competition to help the Irish Funds Industry as a collective play its part in tackling climate change. This initiative involved entrants from across The Irish Funds Industry working together to identify and propose solutions to the sustainability agenda. The proposed solutions could relate to product innovations, new platforms for engagement, corporate initiatives, use of technologies, or other ideas.
The initiative was centred around the UN's 17 Sustainable Development Goals, and the impact the Funds Industry could make towards achieving these goals. Participants were asked to identify and assess achievable and impactful measures that the Funds Industry could implement, to help realise the objectives of these goals.
Sustainathon was launched at an in-person event back in February 2020, with an initial 120 people from across various firms in the funds industry and various colleges signed up to participate. Participants were sorted into teams with the task of coming up with an idea that could be adopted by Irish Funds and rolled out across the industry towards achieving a number of the UN Sustainable Development Goals. 14 entries were submitted, with over 40 companies and colleges represented. This was achieved in spite of the backdrop of the Covid-19 pandemic and the challenges this presented. (Find out more

here)
The overall winner was The Green Team Network - a forum for connecting and empowering change towards a sustainable environment within the Irish Funds industry. The Green Team Network aims to facilitate the connection of firms and staff to enable knowledge sharing across the industry and support the implementation of collective campaigns.
The Green Team Network was officially launched in March 2021 supported by Grant Thornton and has representation from over 16 Irish Funds members firms on the steering committee.
Video references: https://youtu.be/70YI-vmps38 & https://www.youtube.com/watch?v=Sl5JdOaiUQ8
Green Scene
We are committed to reducing the impact that our business has on the environment. This has seen two key steps taken in the year. The first saw our Managing Partner sign the Carbon Pledge on behalf of the firm. The means we are committed to reducing our carbon footprint by 50% by 2030. To drive this initiative we have created a Green Scene Committee which will be responsible not only for reducing carbon usage throughout the business but also in educating our staff in how they can act more responsibly in this area.
Some of the steps we have already committed to include:
To minimise the use of all resources in carrying out our activities;
To minimise waste generated by our operations and our work;
To reuse and recycle, wherever possible;
To source our energy and renewable suppliers;
To maximise recovery and recycling of our waste output: purchase, wherever possible products, especially office consumables and stationary, containing recycled materials;
To encourage participation in environmentally beneficial programmes by employees, suppliers and clients; and
To encourage and promote all staff to behave in an environmentally friendly manner.
This initiative has been greatly enhanced by our recent move to our new LEED Certified building City Quay HQ in Dublin and also our new office in Cork. These buildings are at the leading edge of energy efficient and eco-friendly design and we are in the process of identifying the benefits and efficiencies these moves have created. We are also reviewing our other offices and working with our landlords to make them as energy efficient as possible.
Corporate Social Responsibility (CSR)
We recognise not just the value of CSR and the positive contribution it can make to our staff and to our local community but also the wider impact we can have on the environment and society in how we conduct all aspects of our business.
Grant Thornton is focused on becoming recognised as a leading business with Sustainability and Corporate Social Responsibility (CSR) at its core. The touchstone of the firm's CSR policy remains our commitment to education, particularly to support those from disadvantaged backgrounds, and ensuring Grant Thornton is seen as a truly diverse workplace.
We believe it makes sense to leverage a skill set prevalent throughout the organisation, education and training - to assist the wider community. This holistic approach, combining Grant Thornton's core values with its approach towards CSR, reinforces what Grant Thornton is striving to achieve as a firm, with our clients' and staff's needs at the heart of what we do.
We have embraced the importance of embedding sustainability throughout our business and have built this into our overall business strategy. We are driven to be recognised not only as a successful business but a responsible one.
Subscribe to our mailing list
Update your subscriptions for Grant Thornton publications and events.