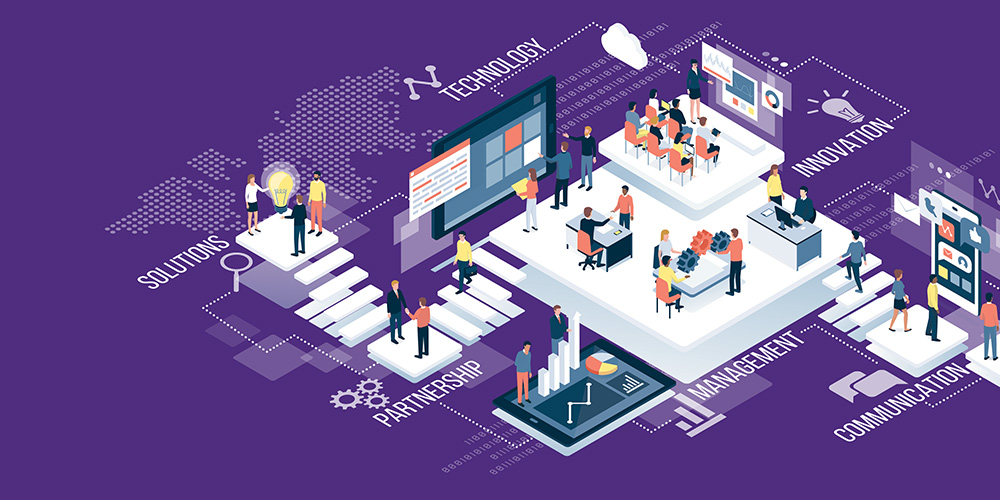 A failure to evolve could see the influence of Finance diminished, but there is a huge opportunity: to become the Enterprise 'Data Navigator'
Finance at a crossroads
Read our full publication.
Download PDF [2702 kb]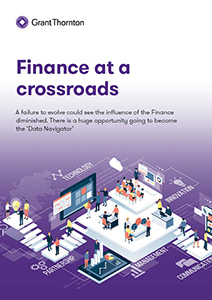 Tech enablement is at the heart of the future finance function, but Finance is expected to leverage all the tools at their disposal. Finance needs to stay ahead of demand and disruption.
Amid all the recent disruption and the unrelenting march of megatrends, technology continues to transform the world of business. Perhaps most significantly, it has driven a marked change in expectations. Consumers, society, and shareholders - everyone expects more.
Business leaders are no exception. Our clients consistently tell us they want a business that is quicker to adapt, more future oriented, and while we're on the subject, more efficient. And they all expect more from Finance. A lot more. They want a partner, who can leverage technology and marshal data to help understand the business and the customer, to the core. They want Finance to develop insight and use the insight to bring challenge. They expect you to be considering the future, predicting what may happen, understanding the impact and advising on how to respond when it does!
The expectations of wider society and investors are changing too and it's broadening the scope of Environmental, Social, and Governance (ESG) and sustainability reporting. There is a loudening clamour for transparency in business and if it cannot be demonstrated, in addition to commercial performance of course, it will lead to a destruction of financial value.
So, the finance community, far from being immune to all the disruption, needs to play its role at the centre of it. A failure to evolve the culture and capabilities of Finance, will render the effectiveness of the accountant's role diminished. Technology is disrupting whole industries and businesses for sure, but it's disrupting the professions as well. An evolution of the role is required, a different way of thinking, and a new way of operating. To deliver positive outcomes will also require a change of culture and core capabilities.
This requires a shift
from operational processing to complete automation
from backward looking metrics, towards forward looking insight and analytics
away from finance only data to mixed data (operational and statistical data), from structured to unstructured data , from internal to external data sources
to more collaboration with the business – in a hybrid workplace
to a greater use of more sophisticated xP&A (financial planning and analytical) tools to provide more sophisticated analysis and to ensure financial and operational plans remain aligned and deliver positive outcomes
requiring a change of skills - more commercial, more collaborative, more analytical.
There is widespread consensus that organisations who will thrive and win will be those who exploit their data to derive insights and discover opportunities. For a business to be successful today, all the business leads need to be technology evangelists, but Finance also have to become data evangelists. The Enterprise 'Data Navigator' is a true business partner!
In every sense, this is a real opportunity: analytics and insight are domains that accountants, rightly occupy. Every operational planning decision has a financial impact, Finance is positioned at a crossroads intersecting every major business function in the organization. It is well-suited to help drive collaborative enterprise-wide planning efforts.
Conclusion
Businesses are starting to think differently about performance. The bar has been raised and Finance must put itself at the heart of this change.
It's time to stop judging success by the financials alone. But the message is clear - Finance professionals have a robust skill set that can play an ever-important role in driving business performance. With this shift must come an evolution of Finance into a proactive, trusted adviser that provide strategic advice and recommendations to stakeholders based on a range of data sources and expert knowledge. In this new business reality, CFOs must capture, measure, report and predict future performance in a much more agile manner to support better decision making and growth.
Having the right tech is crucial. Data quality is critical but so too is ensuring Finance teams have the right skills and business understanding to challenge the organisations directions, analyse decision making and help identify future opportunities.
For the accountancy and finance community, there's never been a better chance to demonstrate value and deliver more, whether that's helping an organisation measure and mitigate risk in new and innovative ways, or using data to identify and grasp growth opportunities.
Subscribe to our mailing list
Update your subscriptions for Grant Thornton publications and events.