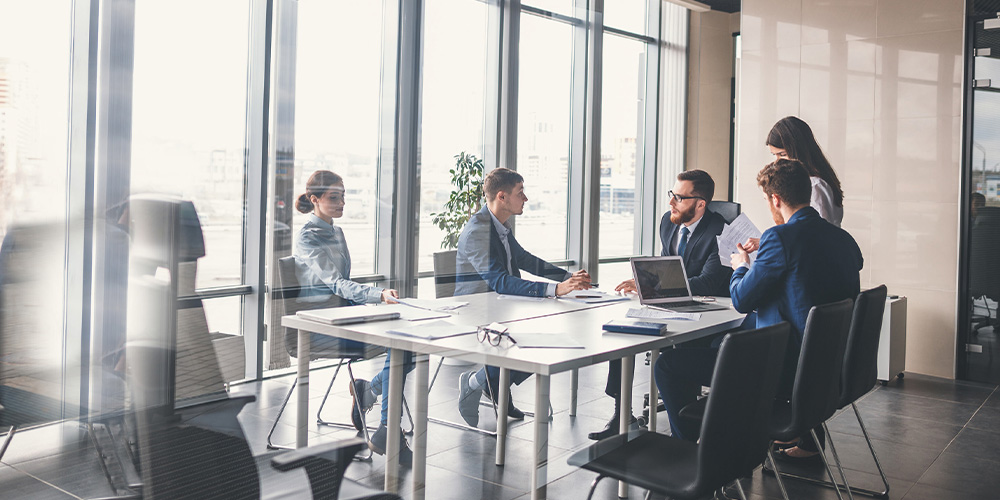 The world of work is evolving quickly; finance departments are increasingly facing competing priorities; and the roles of finance leaders are expanding rapidly. They're responsible for staying up to date with changing regulations and accounting standards, delivering on digital transformation strategies, reducing overhead costs, providing unique business insights via data analysis, and more.
To be successful, they need the appropriate support. Unfortunately, resourcing top finance talent continues to be a challenge for most businesses.
Globally, companies are experiencing a mismatch between the supply of available finance talent and the demand for these professionals. In some regions, the number of suitably qualified individuals exceeds the number of employment opportunities available while in others the business need for talent far outstrips the available supply.
Ireland, for instance, is facing a finance talent drought influenced by numerous factors. Despite almost a year of headlines about layoffs, the country actually has near full employment. Furthermore, because the function is both a compliance and commercial necessity, finance departments have largely been spared from layoffs, which has increased the crunch for finance talent. At the same time, the amount of talent coming into the country has also declined as the cost of living and housing crisis have escalated, shrinking the talent pool.
Uncertainty about the global economic mood has made it challenging for many businesses to determine their long-term staffing needs, and some companies may be hesitant to sign off on full-time, permanent hires. However, the demand for finance talent remains strong, and certain events that affect staffing, such as a change in the employee circumstances or a significant business opportunity, will arise regardless of larger economic trends.
When faced with these events, finance departments should consider an interim staffing solution. A temporary and flexible staffing arrangement allows leaders to access the talent they need when they need it. It can fill periodic staffing gaps, reduce the pressure on teams, augment the capacity and capability of a finance department and ensure that the business stays on the path to success.
If your finance department has encountered any of the below scenarios, then it's time to consider Grant Thornton's Flexible People Solution.
Departure of key personnel
Employees leave roles for a variety of personal and professional reasons. In a tight labour market, finding talent to replace highly skilled or senior-level personnel can be a challenging process exacerbated by lengthy hiring timelines.
The hiring process includes many phases—recruitment, interviewing, offer and negotiation, and notice periods. Businesses often face several months of personnel gaps—beginning the day exiting team members finish and ending only once the replacement hires begin their roles.
In the current market, the more technical the finance role, the more difficult it is to find and source the talent. Recruiting finance professionals with expertise in systems implementations—such as new ERP system integration— or the experience needed for highly technical accounting roles is especially challenging. Replacing a technical specialist can take up to six months.
When hiring a senior-level finance professional, the recruitment phase alone is usually six months, which means that the personnel gap for an executive-level position can easily last a year because of negotiation and notice periods. Furthermore, because finance talent is in demand, it's not unusual for a preferred finalist candidate to receive counter offers that unexpectedly changes a company's hiring plans.
Throughout this hiring period, the business suffers from having a personnel gap in a critical area. At the same time, finance teams endure the consequences of being understaffed and lacking the required level technical expertise and/or leadership.
With a flexible, interim staffing solution, business units can bridge these critical gaps in the short and medium term, preventing common pain points and ensuring that business continues as usual.
Grant Thornton's Flexible People Solutions team is made up of accomplished finance professionals with years of industry experience, sourced either from our internal specialists or our specially curated pool of external consultants. Our consultants are up to date with current regulations and training, so they can focus on delivery from day one and begin executing from day one. As proven problem solvers with hands-on experience, they have the know-how needed to hit the ground running.
Relocation Challenges
Companies often experience many benefits when they source permanent hires from the international labour market. They have the opportunity to find the specific talent they need while growing the diversity of their workforce—and having a diverse workforce increases productivity, provides unique perspectives, and leads to innovative solutions for longstanding problems.
However, relocating personnel to Ireland from countries outside the EU also comes with significant challenges. The timelines for visa and employment permit processing are lengthy and often unpredictable. The procedure is process heavy, and many of the factors that cause delays are outside of an employer's control.
These delays have knock-on effects inside a company. Teams find themselves under resourced for much longer than expected. When teams are stretched too thin for too long, team members must continue to take on additional responsibilities to ensure that business runs smoothly. The workload is unsustainable, and, in the long run, it can damage team morale, harm company culture and negatively affect the mental health of employees.
Companies can use a temporary and flexible staffing solution to fill the unpredictable short-term gaps that arise form relocation challenges, helping HR departments manage the problems that transpire when hiring internationally takes longer than anticipated. With an experienced consultant bridging the gap, businesses can sidestep the internal problems that inevitably surface when teams remain understaffed for excessive and unpredictable periods of time.
Significant Events
When businesses encounter significant events, they often need to bring in external experts to navigate these events successfully. Specific transactions—such as a merger or acquisition, integrating a new IT/ERP system, bringing in a finance function from another organisation, or making an investment in another company—can require additional due diligence, an independent point-of-view or deeply specialised knowledge on a temporary basis.
These external finance specialists often need to work closely with the CFO and CEO, providing them with the know-how required to make and execute on high-stakes decisions. During that time, the business urgently needs a finance expert with highly specific skills, deep subject-matter expertise and international experience. However, because these events typically only last 12 to 18 months and the company won't need that support on a permanent basis, getting that level of talent in the door can be a challenge.
When a significant event arises, a flexible and interim resourcing solution enables companies to access the finance professionals required on a timeline that suits the business's needs.
Unlike a traditional staffing agency, Grant Thornton's Financial Accounting and Advisory Service (FAAS) team has deep financial expertise, enabling its leaders to technically assess the consultants who make up the firm's Flexible People Solutions community. Because they speak the same financial language as the client and understand each consultant's value and capability, when a significant event arises, the FAAS team can deploy exactly the type of consultant that clients need for their engagement.
Future-proofing the Finance Function
The world of finance has changed dramatically over the past few years. That pace of change is likely to continue. The roles, responsibilities and skills of finance team members are also changing, and many of the jobs that finance departments will need in a few years' time don't yet exist today.
Consider sustainability reporting. Today, ESG and sustainability disclosures are an important component of the finance function. However, five years ago, ESG reporting was a relatively new area, and there weren't many finance roles specifically dedicated to sustainability-related compliance and procedures.
The fastest growing areas of finance today—sustainability, FinTech, digital transformation and cryptocurrencies—will likely shape the finance jobs of the future. When expanding into these areas, finance leaders may want to pilot a role to determine the type of expertise they need to succeed and whether they will need to bring that expertise in-house on a permanent basis.
In such cases, a temporary and flexible resourcing solution can help these leaders assess their future hiring needs. By bringing in an external consultant to fill the new role temporarily, they can determine if the creation of a permanent role serves the long-term needs of the business. They can also use this test-run period to learn more about the exact level and type of finance talent they need should they decide to move forward with creating a permanent position.
Because Grant Thornton's Flexible People Solution is a consultancy offering rather than a staffing service, businesses can approach our FAAS team without a fully flushed-out job description. Drawing on their years of professional and industry experience, the FAAS team can consult with the client and find the appropriate person to resource this new and adaptable position. Finance leaders can then use this interim period to gain a better sense of both the role they need and the type of individual they need to fill it to ensure that the new function is successful in the long run.
Why Choose Grant Thornton's Flexible People Solutions?
Grant Thornton's Flexible People Solution is a consultancy offering. By drawing upon both our expertly vetted pool of external consultants and in-house subject-matter experts, we can provide interim resourcing solutions for finance roles at all levels, deploying our people exactly when, where and how they're needed.
Because our Flexible People Solutions community is made up of individuals with extensive commercial experience and diverse backgrounds, many of our consultants have international experience, making them a strong cultural fit for large organisations with temporary resourcing gaps. Their experience as industry leaders also makes them well equipped to manage teams and tackle complicated problems from day one.
Unlike a traditional staffing intermediary, Grant Thornton's client relationship doesn't cease once a position is filled. We're interested in building long-term relationships with our clients and providing them with solutions that deliver long-term benefits. Our team of consultants can draw upon Grant Thornton Ireland's in-house expertise across all service lines—as well as Grant Thornton International's support infrastructure—throughout the duration of their assignment.
Interested in learning more? Check out our Flexible People Solutions service today.