Every day brings its own challenges to project teams, overnight Covid-19 has introduced substantial implications to businesses projects right across the globe. Colleagues that were sitting next to one another in the office environment are suddenly dispersed geographically and businesses are having to get to grips with the rapid shift in business operations if they want to survive.
One positive is that our project managers of today should, to an extent, be well placed to deal with the current circumstances we find ourselves in. We as professionals live in an increasingly virtual world, resulting in the need to upgrade our knowledge and skillset to lead virtual projects. Over the last number of years, the rise of the Internet and development of collaborative software tools have introduced a new dimension into project management.
While some of us may be used to working virtually and having team members remotely located, for many this situation is likely to be very different. The Covid-19 pandemic has introduced uncertain challenges for all project managers, underlining the need for agility, flexibility and change readiness.
Considerations for a Virtual Project Manager during Covid-19
Communication
Communication is a key element and serves as the foundation of every facet of a business. Having teams dispersed geographically means that now, more than ever, communication becomes the most important element in project management. Project managers are familiar with the use of communication plans with their stakeholders, we now need to make a shift to a virtual means of communication, utilising some of the tools we have readily available to us, which allow us to work collaboratively on projects. Tools such as video conferencing platforms, instant messaging programs, project management software, and cloud-based document storage/file sharing suites allow teams to access the information and materials from any location.
As our teams are now remotely working, project managers must place more importance and emphasis on the planning side of communication. It is important that the method of communication used works well for all involved, taking individual needs and preferences into consideration. The use of effective tools, combined with a well-defined plan which tracks progress, workflow and expectations will mean more effective means of working. Communication is by far the most important aspect of managing your project virtually. All the other aspects can be addressed when you have great communication.
Culture change
With the rapid spread of Covid-19, project managers must prioritise the care and protection of their team, helping them adapt to new working conditions. This can be achieved through building trust and resilience amongst teams, focusing on communication and collaboration and cultivating a digital culture within the team.
A resilient project team starts with a resilient project leader. During this time, it is crucial that project managers step up and empower their teams with the tools and skills necessary to adapt to a new digital way of working. They should lead with compassion, showing empathy towards employees and embracing transparency through regular communication via internal memos, social media groups, apps like Microsoft Teams and blogs.
An effective digital culture requires digital collaboration. Sharing learnings and insights between teams is paramount to a productive digital culture and project managers should encourage this by engaging their project team in share sessions. For example, team WhatsApp groups and video calls over coffee are a great way to build morale and foster collaboration.
Virtual project managers should focus on creating the right conditions for their team to succeed. Below is a checklist for enhancing your team's performance during this time: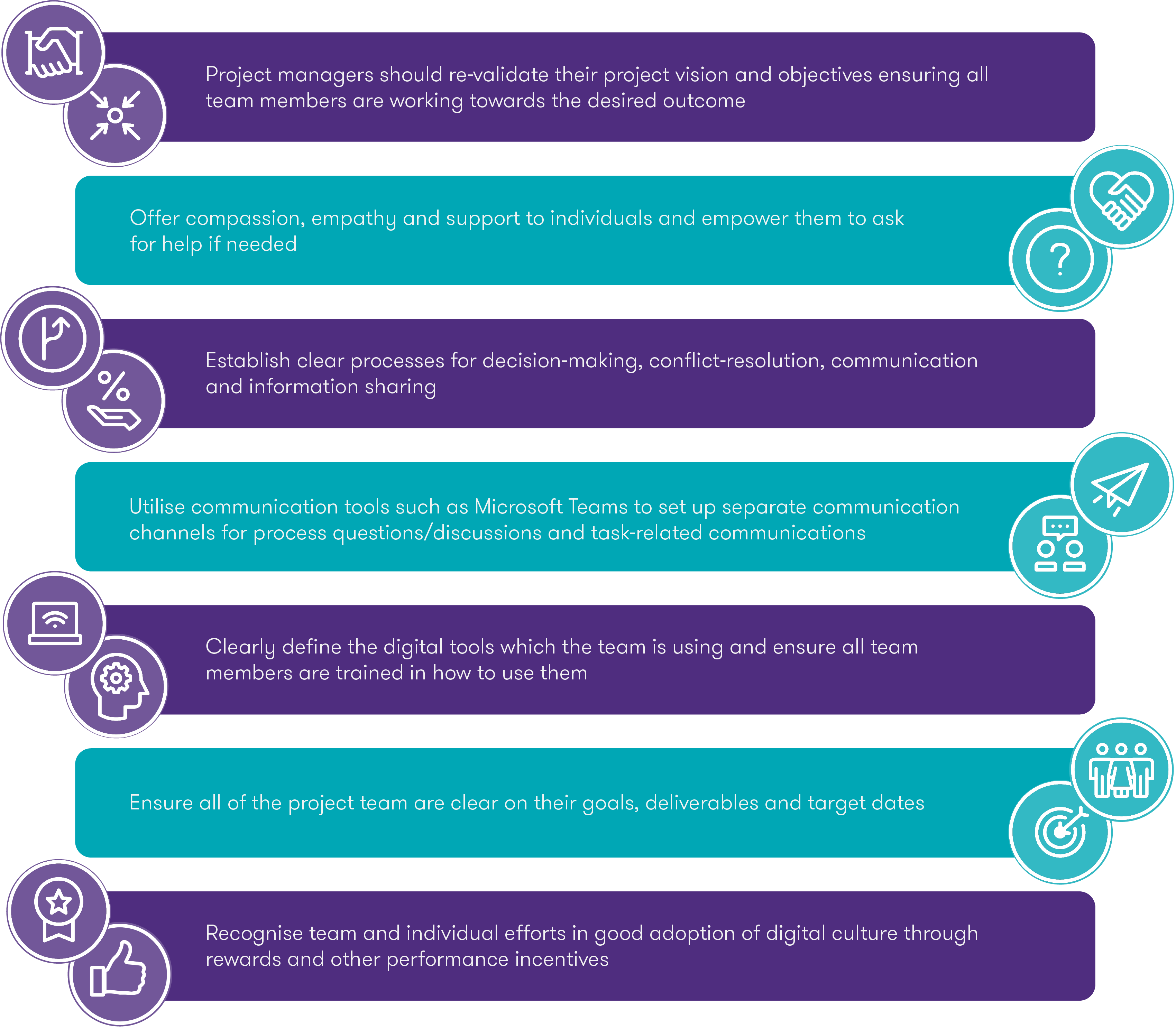 Risk Management
Now more than ever risk analysis and management will be a crucial practice for project managers. Project managers will have to revisit their risk plans, identifying new risks that come with the new ways of working during the Covid-19 crisis. Project managers will need to look at baseline risk plans and revise in key areas such as resources, communication, technology and finance to ensure that the project is fully prepared for all eventualities.
The most effective ways to assess project risk during these challenging times:
Start by identifying which project activities will be most affected
Anticipate the types of disruption that pose the greatest risk,
Implement plans to mitigate their effects
Project managers don't necessarily have to re-invent the wheel during these unprecedented times. Through utilising the basic tools and skills you have, and placing a greater emphasis on communication and the needs of the team, we can all face this crisis and come out as even better project managers than before. Stay safe!