In the ever-evolving financial services regulatory environment, it is a key aim for EU Authorities to establish a crisis management framework for managing institutions running into financial distress.
The introduction of the Bank Recovery and Resolution Directive ('BRRD') in 2014 has addressed this for banks and investment firms by providing a harmonised EU framework for recovery and resolution.
Conversely, the insurance system is still codifying its approach to this topic; however progress has been made and the European Insurance and Occupational Pensions Authority (EIOPA) issued, in July 2017, an opinion to institutions of the EU on the harmonisation of recovery and resolution frameworks for (re)insurers across the Member States.
A number of European Member States (namely France, The Netherlands and Romania) have national law in place regarding Recovery and Resolution Planning for insurers. In Ireland, there are no formal requirements as of yet but it is high on the Central Bank of Ireland agenda, as evidenced by a recent address from the Deputy Governor to industry body Insurance Ireland.
It is evidently clear that Recovery Planning typically evolves over a number of years, with regulatory expectations growing as institutions are expected to ensure minimum compliance, increased complexity, embeddedness into the Risk Management Framework and, lastly, influencing the strategic direction of the institution.
Recovery Plan - components
The International Association of Insurance Supervisors (IAIS), in its Draft Application Paper on Recovery Planning issued in November 2018, defines a recovery plan as a plan that identifies in advance options to restore financial strength and viability if the insurer comes under severe stress.
Without trying to predict the EU Authorities approach to recovery and resolution for insurers, and trying to mirror the banking approach taken to date, the figure below outlines the possible key components of a recovery plan for insurers: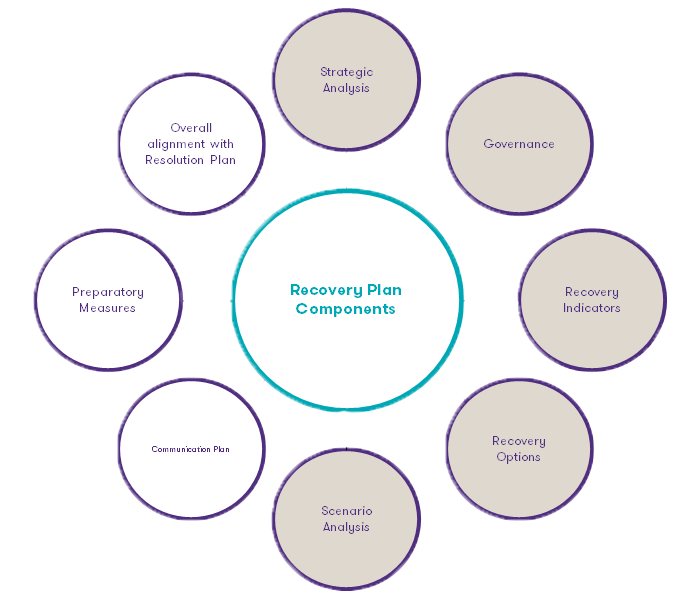 The main reasons for the development and implementation of recovery plans by insurers centre on three key areas:
recovery planning acts as a mechanism against insurer failure or near failure. For example, the use of Recovery Plan Indicators (RPIs) and Early Warning Indicators (EWIs) – aligned with Risk Appetite Statement (RAS)- and taking Own Risk and Solvency Assessments in consideration, is vital in detecting problems in a timely fashion;
pre-emptive recovery planning helps improve the quality and clarity of strategic decision-making processes in times of crisis - developing a strategy during an extreme stress can limit the scope of the planning, the detail of the review, and the efficacy of decision making; and
in terms of the regulatory agenda, the topic has taken on greater significance in recent years, with this likely to continue for the foreseeable future - for example, Global Systemically Important Insurers (G-SIIs) are now required to carry out Recovery and Resolution Planning, with this including FSB guidance.
Why Grant Thornton?
Grant Thornton's prudential risk, insurance and actuarial advisory experts assist a diverse range of financial institutions in the interpretation and completion of their recovery planning requirements. Our team has extensive knowledge of the legislation and guidance underpinning recovery planning and also has a proven track record of assisting institutions with drafting, updating and reviewing their recovery plans.
Our experts could help insurers get prepared for recovery planning by leveraging the unrivalled expertise gained by advising domestic and international banks and investment firms.