Large corporations with a presence in multiple jurisdictions face a number of accounting challenges. Not least of these are the varied reporting and compliance requirements imposed by different countries. GAAP can vary from country to country as can the format of the presentation of financial statements, VAT returns, corporation tax returns, language and so on.
Dealing with these requirements places a heavy burden on finance teams who frequently do not possess the necessary expertise. In many instances large corporations use multiple service providers in different jurisdictions and are looking to streamline their compliance process with a single point of contact by consolidating the number of providers and mirroring their own internal set up by centralising the delivery approach.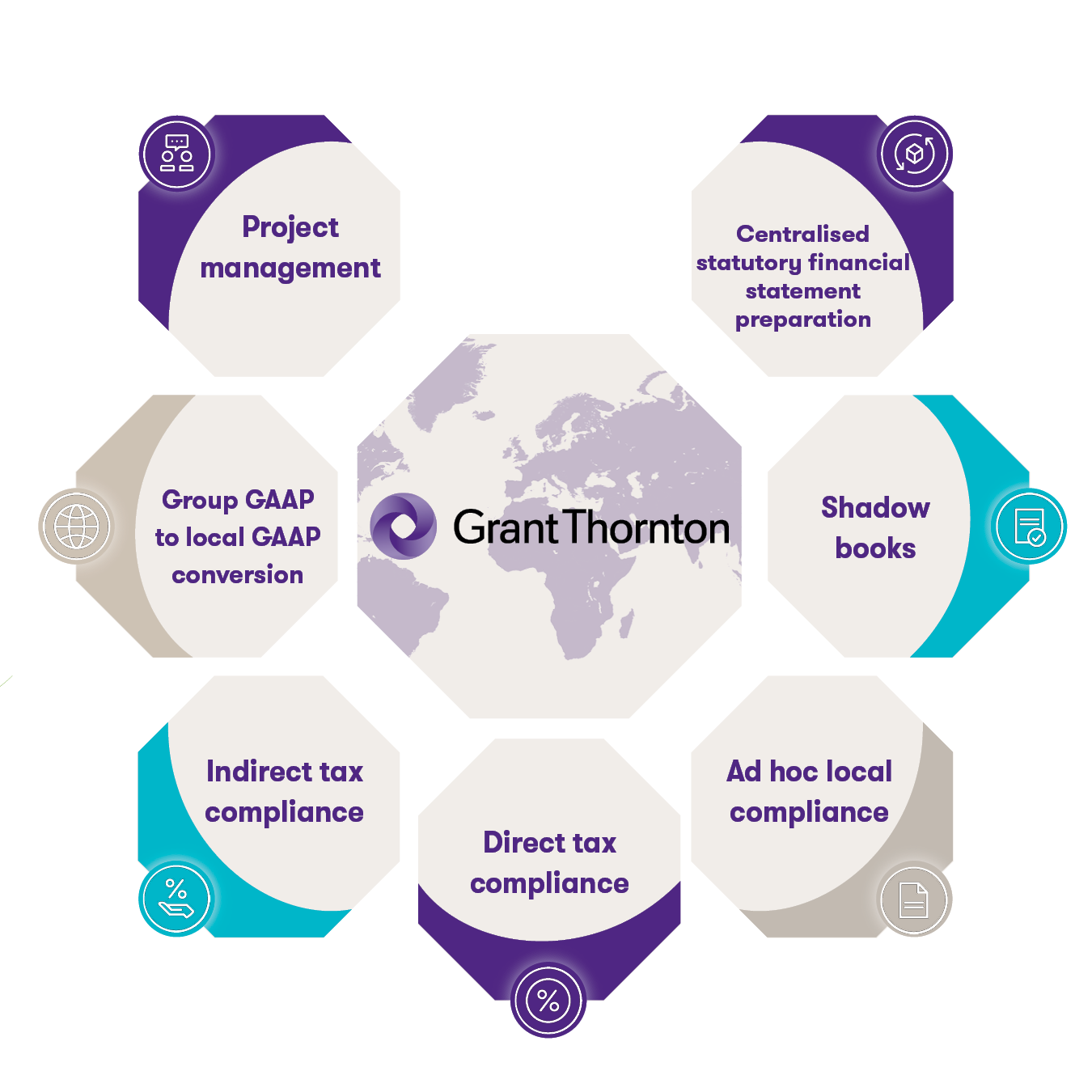 Our services
Our service offering covers a full suite of compliance services including financial statement preparation and related filings, dual bookkeeping, direct and indirect tax and statistical returns.
Technology and automation play a significant part in the delivery of our service. For example, specially designed software enables the production of accounts very quickly in the format required by different jurisdictions in local language and in English. The financial statements are very consistent in presentation and are designed to be easy for the client to review.
We also offer regular updates on the changing legislative and regulatory landscape in different countries around the world. For clients considering moving into a new jurisdiction, we provide compliance "smart cards" which offer concise guidance on reporting requirements as well as topical information such as applicable tax rates and accounting issues and so on.
Why Grant Thornton?
Grant Thornton's Global Compliance and Reporting Solutions (GCRS) is offered through our Financial Accounting and Advisory Services (FAAS) Centre of Excellence which centralises all compliance needs in one location. All overseas accounting compliance and reporting requirements are met here in Ireland through a single point of contact.
Among Grant Thornton's key strengths in this area is the fact that we have people from many of those overseas jurisdictions working in our Irish office. They have local knowledge to assist the GCRS team to navigate the various issues faced by clients. In addition, our global office network covers 140 countries and we leverage their expertise where required.