The latest generation of fast growing multinational organisations are focused on their core business activities and can find the pace of their expansion has outrun their capacity in relation to underlying business processes such as finance and payroll.
The natural choice for such organisations is to minimise cost and organisational complexity by outsourcing these processes.
Grant Thornton's Business Process Outsourcing (BPO) team serves the needs of rapidly growing mid-tier multinationals operating out of Ireland and other hubs through the provision of services across the full range of finance functions: spanning financial and management accounting to include accounts payable and receivable, month end activities and controllership functions, direct and indirect tax compliance and global payroll services, through to statutory accounts preparation and support across IFRS, US and local GAAPs.

The service offering is designed to meet client's requirements and specific preferences. In some cases, a company will already have a shared services centre and requires additional resources and support to cater for expansion. The Grant Thornton BPO team can provide that capacity and support while acting under the direction of the client's finance management team.
In other cases, the client may be establishing a new entity in a jurisdiction where they have had no presence previously, and may wish to retain overall control of its finance functions while delegating the management and processing tasks to a trusted external business partner. Other clients may wish to outsource particular processes such as payroll or controllership whilst retaining others in-house.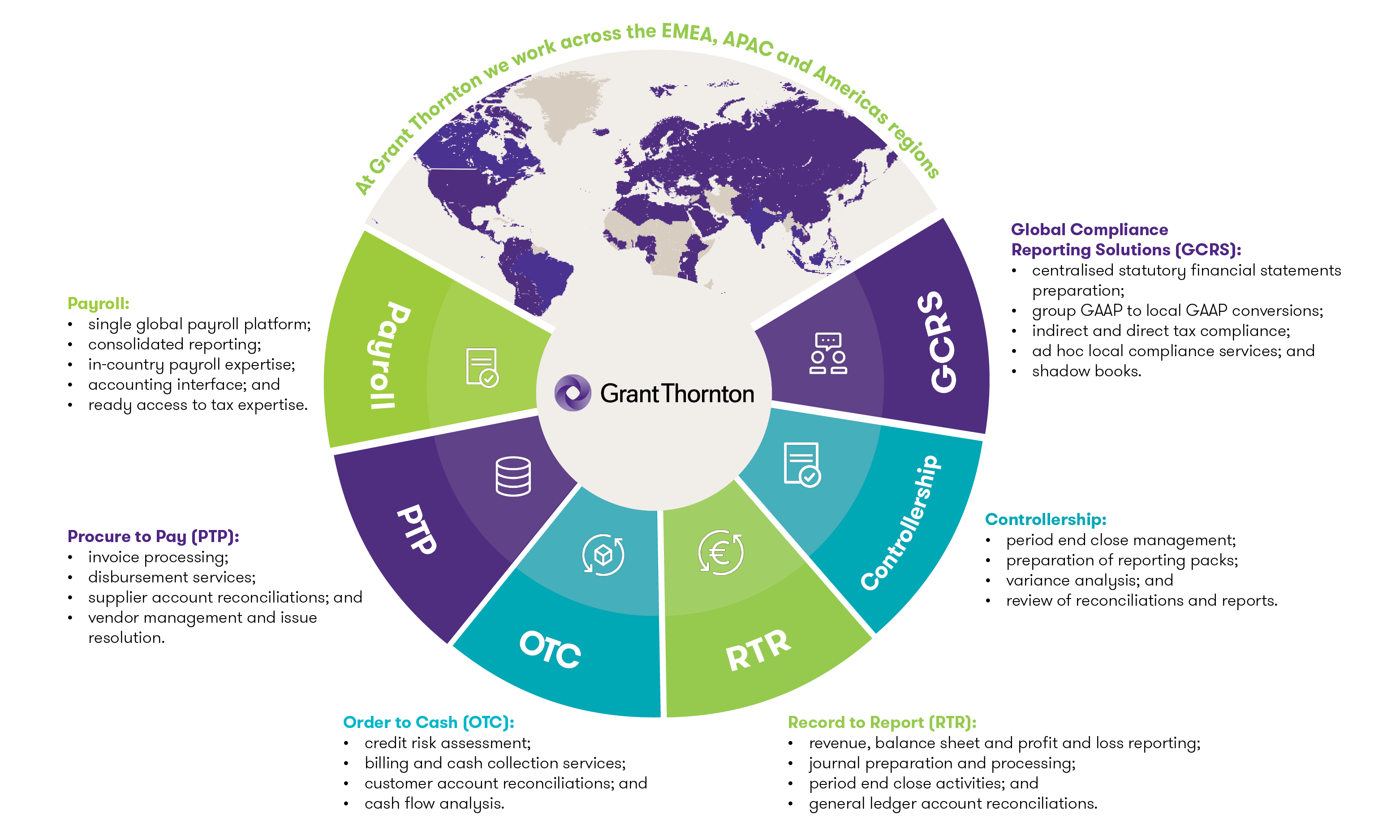 Why Grant Thornton?
We offer a flexible tailored service delivered through a single point of contact which places the client in full control of all processes at all times while allowing them to focus resources on their core business activities.
The BPO team also benefits from the in-market expertise provided by Grant Thornton's global members' network which gives us a presence in 130 countries. This ensures we are able to ensure full compliance for clients in all the different jurisdictions in which they operate.