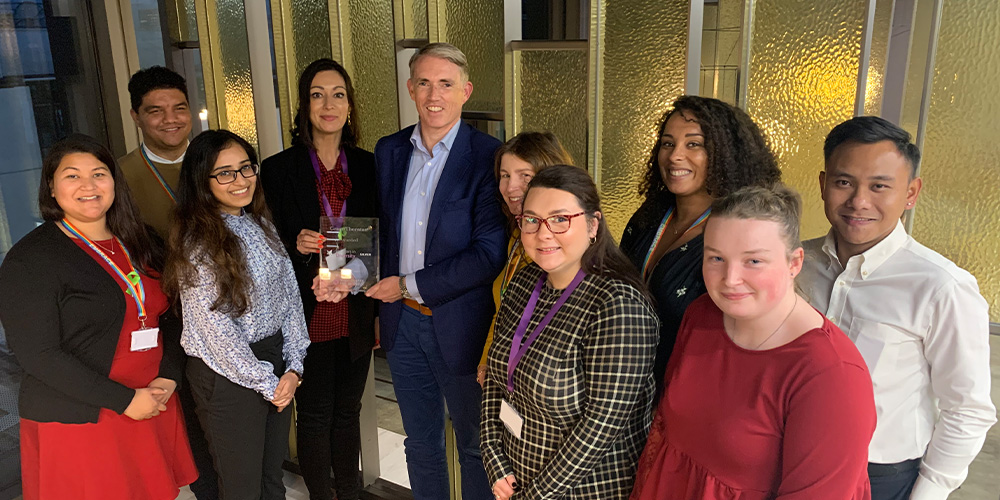 Grant Thornton's Shauna Rahman, Equity, Diversity and Inclusion Specialist, and Seán O'Driscoll, Associate Director - Financial Services Advisory, present an overview of the importance of equity, diversity and inclusion in the workplace.
Grant Thornton Ireland case study – an ED&I success story
Read the full case study and learn how Equity, Diversity and Inclusion (ED&I) at Grant Thornton has always been at the forefront of our workplace culture agenda.
Download PDF [705 kb]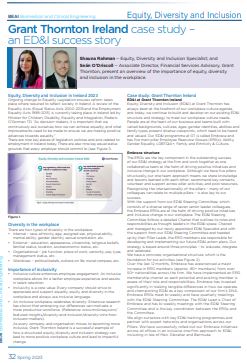 Equity, Diversity and Inclusion in Ireland 2023
Ongoing change to Equality Legislation ensures reform takes place where required to reflect society in Ireland. A review of the Equality Acts (Equal Status Acts 2000-2018 and the Employment Equality Acts 1998-2015) is currently taking place in Ireland led by Minister for Children, Disability, Equality and Integration, Roderic O'Gorman TD. "As decision-makers, it is important that we continuously ask ourselves how we can achieve equality, and what improvements need to be made to ensure we are making positive advances towards equality."
There are nine key pieces of legislation, policies and acts related to employment in Ireland today. There are also nine key equal status grounds that every employer should commit to.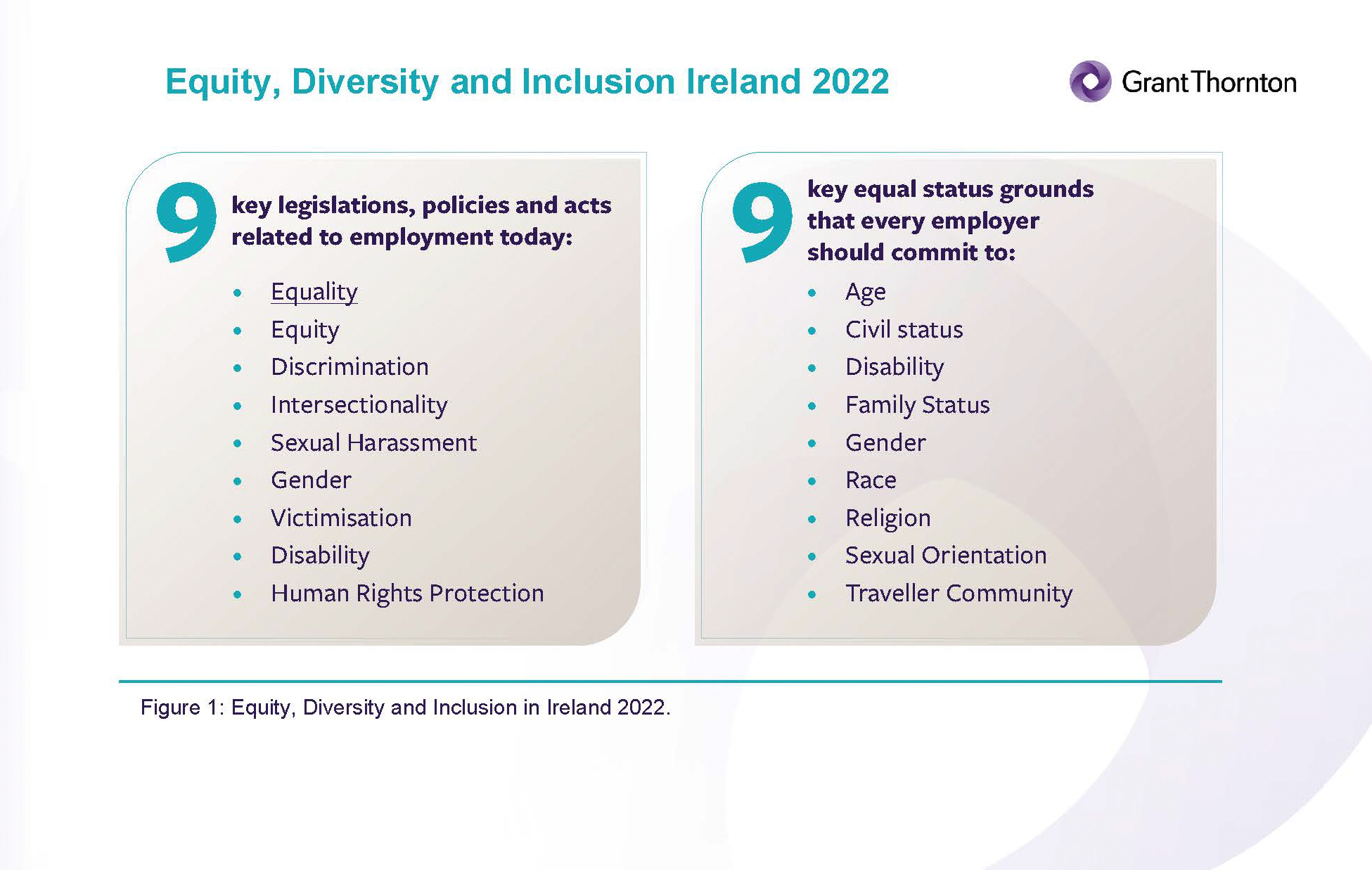 Diversity in the workplace
There are four types of diversity in the workplace:
Internal – race, ethnicity, age, assigned sex, physical ability, mental ability, gender identity. sexual orientation, etc.
External – education, appearance, citizenship, religious beliefs, familial status, location, socioeconomic status, etc.
Organisational – job function, place of work, seniority, pay type, management status, etc.
Worldview – political beliefs, outlook on life, moral compass, etc.
Importance of inclusivity
Inclusive culture enhances employee engagement: An inclusive workplace allows for a better employee experience and assists in talent retention.
Inclusivity is a core value: Every company should strive to appreciate and support equality, equity and diversity in the workplace and always use inclusive language.
An inclusive workplace celebrates diversity: Extensive research has shown that embracing our differences can motivate a more productive workforce. (Reference: McKinsey). As every company and organisation moves to becoming more inclusive, Grant Thornton Ireland is a successful example of how a structured equity, diversity and inclusion strategy can lead to more positive workplace culture and lead to impactful change.
Case Study: Grant Thornton Ireland
ED&I at Grant Thornton Ireland
Equity, Diversity and Inclusion (ED&I) at Grant Thornton has always been at the forefront of our workplace culture agenda, and today, we continue to build and develop on our existing ED&I structure and strategy to meet our workplace culture needs. People are at the heart of our business and teams built with varied backgrounds, cultures, ages, gender identities, abilities and family types present diverse viewpoints, which need to be heard and valued. Our ED&I programme at GT is called Embrace and has five main pillar Employee Resource Groups (ERGs): Ability, Gender Equality, LGBTQIA+, Family and Ethnicity & Culture.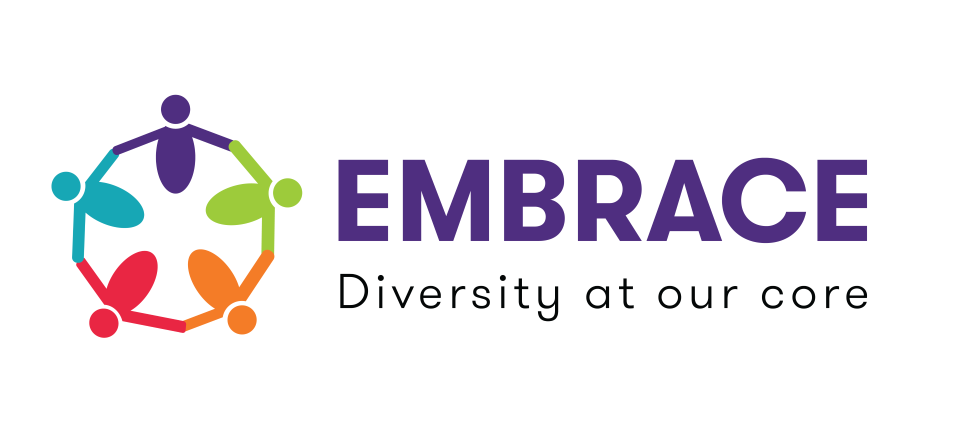 Embrace structure
The ERGs are the key component in the outstanding success of our ED&I strategy at the firm and work together as one collaborative team at the helm of driving positive initiatives and inclusive change in our workplace. Although we have five pillars structurally, our one-team approach means we share knowledge and lessons learned with each other; recommend key contacts; volunteer and support across pillar activities; and pool resources. Recognising the intersectionality of the pillars – many of our colleagues can relate to multiple pillars – is also key to our success.
With the support from our ED&I Steering Committee, which consists of a diverse range of seven senior leader colleagues, the Embrace ERGs are at the helm of driving positive initiatives and inclusive change in our workplace. The ED&I Steering Committee follows a detailed Charter that outlines its roles and responsibilities as thought leaders in the ED&I space. Chaired and managed by our newly appointed ED&I Specialist and with the support from our ED&I Steering Committee and headed up by their Pillar Leads, the ERG members are responsible for developing and implementing our future ED&I action plans. Our strategy is based around three principles – to 'educate, integrate and celebrate'.
We have a concrete, organisational structure, which is the foundation for our activities: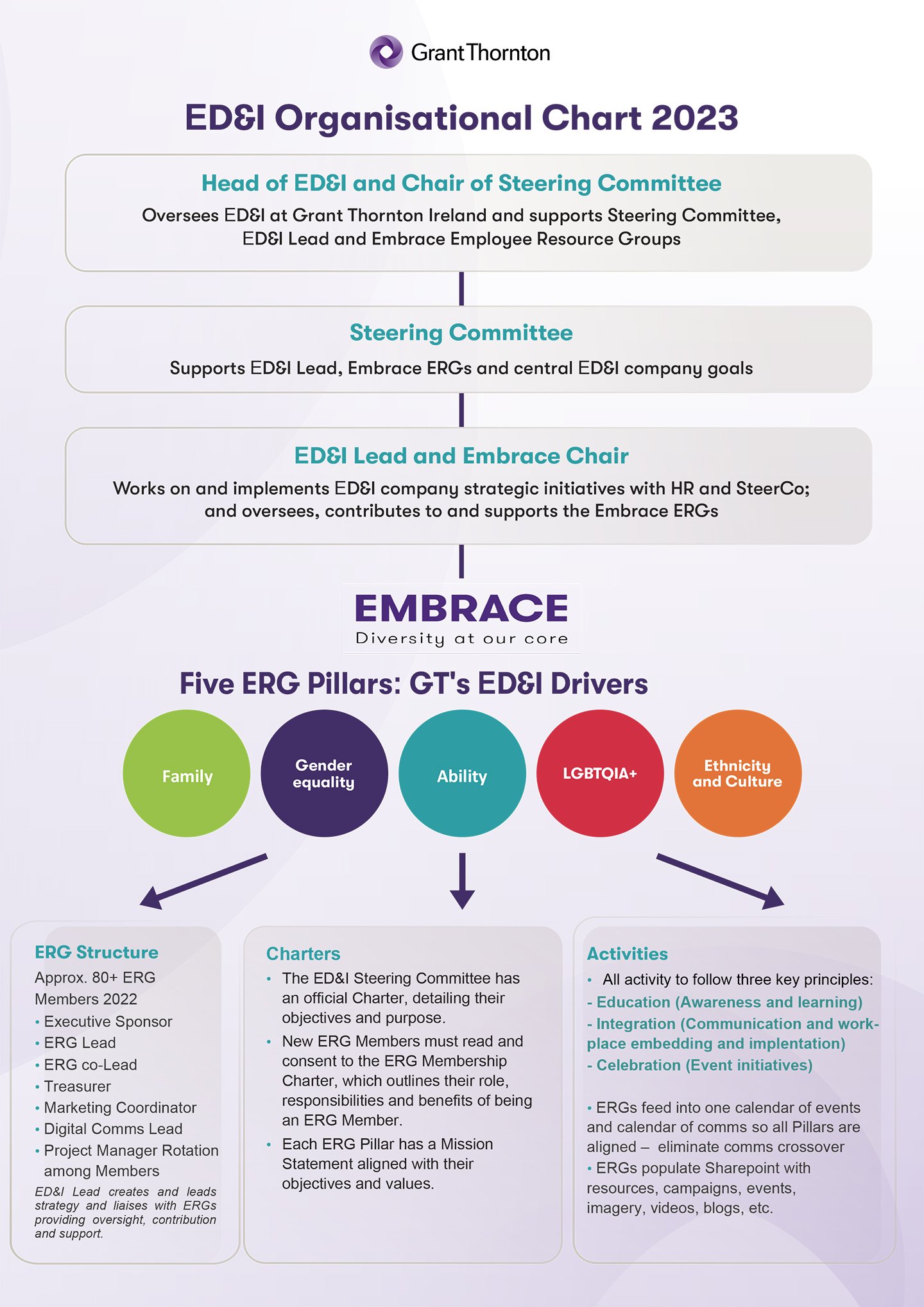 Over the last 12 months, Embrace has experienced a major increase in ERG members (approx. 80+ members) from over 50+ nationalities across the firm. We have implemented an ERG membership charter so each potential and existing member is aware of their role and responsibilities. Embrace has invested significantly in making tangible differences in how we operate and championing ED&I as a key component of our firm's DNA. Embrace ERGs meet bi-weekly and have quarterly meetings with the ED&I Steering Committee. The ED&I Lead is Chair of Embrace and has bi-weekly meetings with the ED&I Steering Committee and is the key coordinator between the ERGs and the Committee.
We align ourselves with key ED&I training programmes and partner with expert networks and organisations across our Pillars. We have successfully rolled out our Embrace initiatives across all offices in an inclusive one-firm approach to ED&I, including in Isle of Man, Gibraltar and Bermuda.
Subscribe to our mailing list
Update your subscriptions for Grant Thornton publications and events.