Since the financial crisis of 2008, the governance and conduct of financial services firms has been under increasing scrutiny.
Within financial services firms specifically, these pressures are amplified through:
Changing regulatory agendas and rapidly emerging business risks;
Difficulties in attracting and retaining deep knowledge and specialist skills and the increase in recruitment costs this brings;
Ensuring Second and Third Lines of Defence monitoring, testing and QA plans continuously align themselves to the ever-changing business risk profile;
Demands to improve insight and efficiency by leveraging technological advances; and
Pressure to constantly prove the value of Risk, Compliance and Internal Audit functions.
Second and Third Lines of Defence functions are therefore required to employ a skilled, scalable pool of resource, ready and flexible to meet this plethora of challenges. As a result, firms must have access to a diverse range of skillsets capable of providing independent assurance across numerous subject matters, including: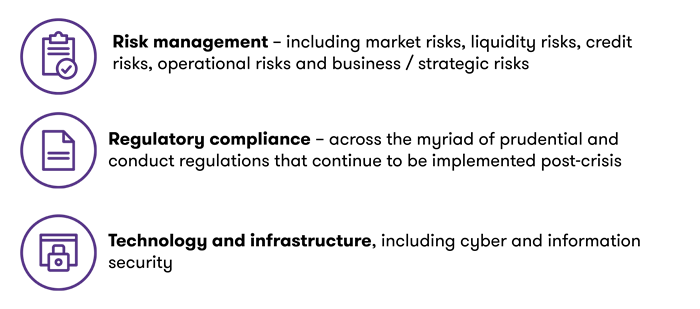 However, building and supporting a specialist in-house team capable of delivering the level of assurance and insight required may not be feasible or cost effective for many organisations.
Our Services
Regulatory compliance horizon scanning
Risk assessments (with methodology and scoring design)
Framework and policy development and reviews
Central Bank of Ireland - mandated independent reviews
Risk Mitigation Programme remediation
Training (awareness and operational)
Risk and Compliance assurance testing
Why Grant Thornton
Our dedicated GRC team is comprised of former regulators, industry practitioners and regulatory consultants who have first-hand experience working through complex challenges across the financial services industry.
We can support your Second and Third Lines of Defence functions through the provision of tailored, flexible and cost-effective solutions that provide access to industry best-practice methodology, value-add insights and subject matter experts.
Subscribe to our mailing list
Update your subscriptions for Grant Thornton publications and events.