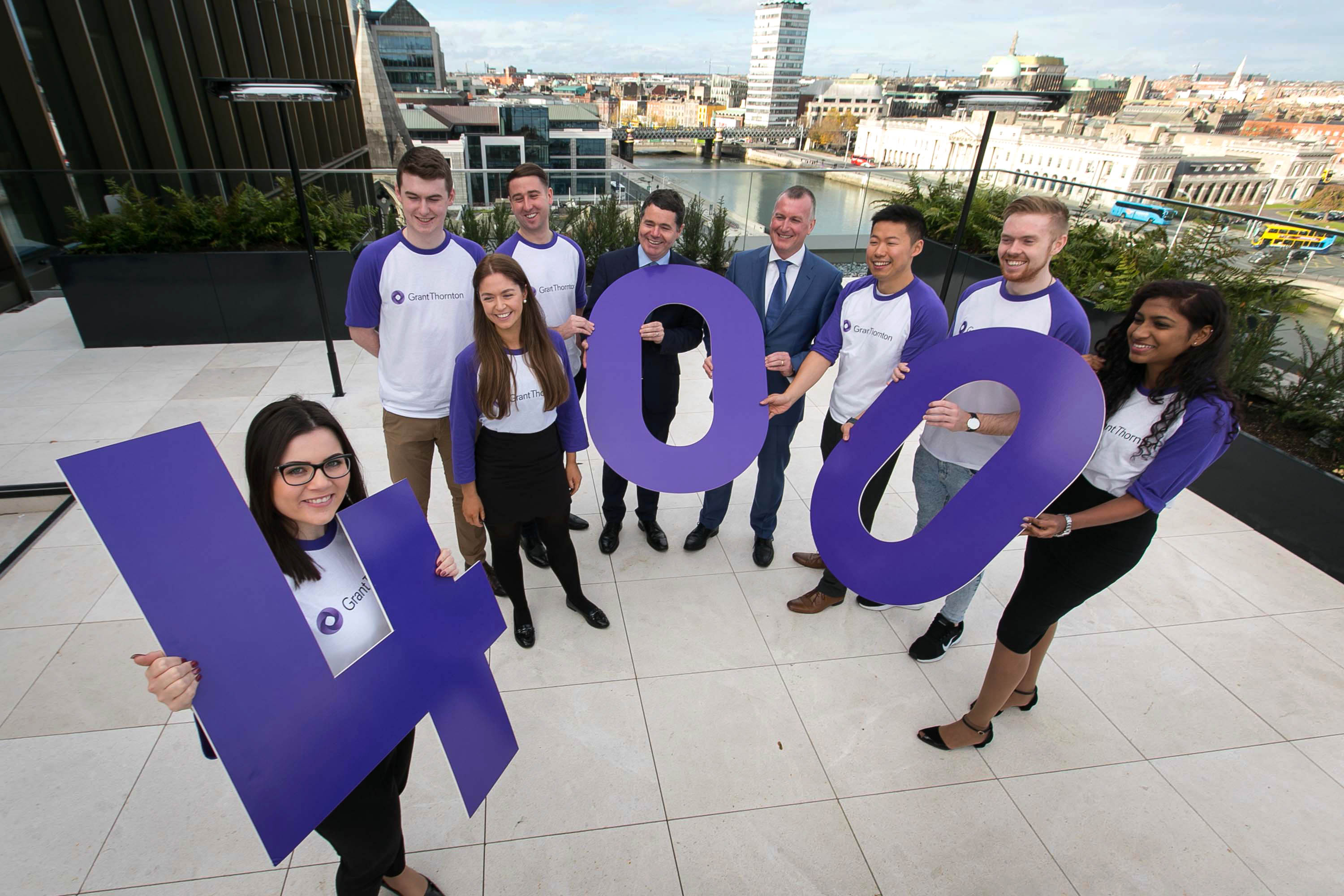 Client needs for diverse solutions among reasons for expansion and jobs creation, announcement made as Minister for Finance visits new headquarters
Grant Thornton, Ireland's fastest growing professional services firm, today announced plans to hire 400 new people over the next two years. The announcement was made today at a visit to the firm's new headquarters on City Quay by the Minister for Finance and Public Expenditure & Reform, Paschal Donohoe, T.D.
Recruitment Drive
New international expansion opportunities, a strong pipeline of projects for the Centre of Excellence and growing client demand are the driving force behind Grant Thornton's decision to increase its headcount by one-third over the next two years.
With new opportunities and strength and depth in numbers, the firm is targeting more than 25% growth in client revenue by 2020. Since 2012 the firm has grown its turnover by more than 130% to €110 million and has expanded from a team of 30 partners and 375 employees, to 49 partners and more than 1,350 employees today.
Of the 400 new hires, half will be experienced candidates from industry and practice looking to further their career with Ireland's fastest growing professional services firm. Grant Thornton is targeting high calibre professionals from accounting and non-accounting backgrounds who can bring specialist and sectoral expertise, client service and commercial acumen to a range of positions in financial services advisory, tax, audit and consulting, as well as specialist areas such as cyber and forensics, technology and aviation.
New graduates will account for the remaining 200 roles. Grant Thornton's latest graduate recruitment campaign has already resulted in a 50% increase year-on-year in applicants looking to secure a training contract with the firm for 2019. The firm's community ethos, direct access to partners, buddy system and diversity programmes are among the non-financial hallmarks of Grant Thornton for new recruits.
The roles will be predominantly based at Grant Thornton's head office in Dublin, with opportunities also at the firm's offices in Belfast, Cork, Galway, Kildare, Limerick and Longford.
Managing Partner of Grant Thornton, Mick McAteer, said: "We are delighted to announce 400 new roles over the next two years. With an exciting pipeline of international opportunities and client projects in Ireland, we are targeting 25% growth by 2020. Bringing the right mix of experienced and graduate hires to the firm is central to achieving further growth and success.
The role of accountants is evolving, as is the regulatory, political and legal landscape, and the needs of our clients within that. We are trusted advisors to a growing Irish and international client base on just about every facet of their business today, across consulting and advisory services. With new growth, comes further diversification and the need for exceptional people from a range of backgrounds to ensure Grant Thornton is primed to make the most of the opportunities ahead."
The Minister for Finance, Paschal Donohoe, T.D., said:
"The financial services sector is a cornerstone of our economy, and Government is committed to supporting the creation of high calibre jobs in the sector through investment by firms such as Grant Thornton. I am delighted that Grant Thornton has plans to hire 400 new people over the next two years. This will provide skilled professionals and new graduates with valuable opportunities to work with Grant Thornton not just in Dublin, but across the firm's locations in Ireland and as part of its global network.
It is especially encouraging to see the strong response to Grant Thornton's graduate campaign for 2019. It sends a clear signal that the next generation sees great potential and opportunity here, and the future of the profession will be shaped by their experiences under the guidance of colleagues at Grant Thornton. In that regard, I am particularly pleased to see that Grant Thornton's new office features a purpose-built Academy to deliver first class graduate training and development combined with a strong emphasis on diversity in the workplace."
New Headquarters
To accommodate significant growth, Grant Thornton has also relocated to a custom-built new headquarters on City Quay. Leased from Irish Life, the seven-storey building was designed by Henry J Lyons, the fit-out designed by MCA architects and built by Bennett Construction with input from Grant Thornton throughout the design, build and fit-out. More than 250 jobs were supported during the 2-year construction phase.
Occupying six of seven floors in the building, the move provides Grant Thornton with 115,000 square feet of floor space, with hot-desking and paperless working at the firm set to maximise the space further.
Key features of the new building include 360-degree views of the city through the 994 panes of glass that make up the structure. It has an open plan layout with a mix of collaborative and quiet work spaces, new cyber/forensics lab, the latest virtual conferencing technology, client lounge complete with café and roof top terrace and the Academy – a dedicated facility for graduate training and development. Employees also enjoy access to a subsidised restaurant, coffee docks on every floor, games area, gym and yoga/fitness studio, as well as secure underground parking for more than 135 bikes and charging points for electric vehicles.