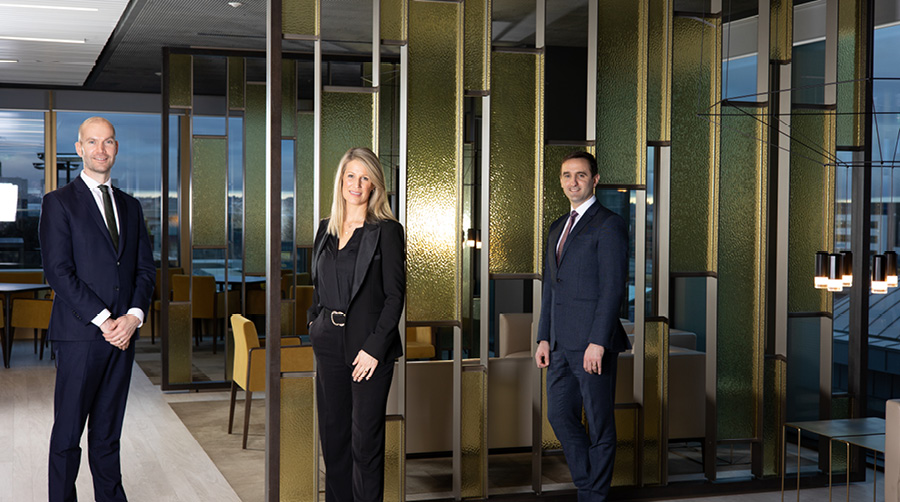 Ireland's fastest growing professional services firm Grant Thornton has today announced the appointment of three new partners. The appointments, which comprise of three internal promotions, reflect the significant and continued growth experienced by Grant Thornton Ireland over the past twelve months, as the firm grows and responds to Covid-19. The company currently employs over 1,450 people in seven offices across Ireland. The new appointments span the Financial Accounting and Advisory Services (FAAS), Financial Services Advisory and Corporate Finance teams.
Commenting on the appointment of the new partners Michael McAteer, Managing Partner at Grant Thornton said "I am delighted to announce the appointments of Shona O'Hea, Brian O'Dwyer and Gareth Cosgrove to the Grant Thornton Ireland Partner team. These three promotions, demonstrate our firms culture of empowering and encouraging our people to achieve their potential. Our priority is to continue strengthening our team and supporting our people and clients to navigate through these challenging times. With 61% of Irish businesses saying they are optimistic about the future of our economy, in our recent Business pulse survey, and 51% predicting a growth in revenue, we want to ensure that as a firm we have the people and the talent to assist these firms with their development, growth and any business challenges they may encounter along the way."
Shona O'Hea has been appointed as the first dedicated Financial Services Partner in Grant Thornton Ireland's Financial Accounting and Advisory Services (FAAS) business unit. Shona is solely focused on the ever growing Financial Services market from a financial accounting and reporting perspective. She leads large outsourced engagements for key clients in Ireland and the US. Shona has 20 years of experience in financial services across industry, regulation and professional services previously working in a number of international financial services companies before joining Grant Thornton in 2008.
"I have had the opportunity to work across a range of financial services areas such as asset management, banking, payment service providers and insurance. Over this time I have seen the complexity of accounting and reporting requirements increase across the board driven by enhanced accounting standards and increased regulation in all areas. With the continuing globalisation of the industry we are able to support our global clients from Ireland accessing our international Grant Thornton network of firms to help clients navigate these complexities and deliver across multiple jurisdictions.
The impact of the pandemic and the future face of work will continue to bring challenges and huge opportunities to these global organisations in terms of how they will arrange their workforce, consider outsourcing arrangements and leverage off increased global connectivity. It's a hugely exciting time to help our clients navigate this new environment and work with them to create the most efficient and effective solutions across their accounting and reporting functions.
Having joined GT as a manager I have always been supported to progress in my career. It's been hugely important to me that Grant Thornton has embraced a strong diversity and inclusion culture and provided an environment where, as a female, I have been able to progress in my career whilst having a family, through supportive sponsors and strong female role models. In my new role I hope to continue to nurture this culture and support our next generation of leaders."
Brian O'Dwyer, Partner in Financial Services Advisory. Brian joined the firm in 2015, as a Director in Business Consulting and is now a Consulting partner within Financial Services Advisory. Brian specialises in the management and delivery of regulatory and transformational change to clients within financial services, and has a wealth of experience working with leading local and international brands.
"I'm really proud to join the partner group in Grant Thornton; I have loved working with the team at all levels here since I joined in 2015, and am really looking forward to continuing on our growth trajectory. We have seen exciting growth over the past few years in Grant Thornton and in Financial Services Advisory, and that's built on a culture that focuses on developing sincere, trusting relationships with our clients.
What a year to look back on - the Financial Services industry's response to supporting its customers and staff since the start of the pandemic has been impressive, as strategic response plans were operationalised in a fraction of the time afforded in normal times.
There are intense pressures on our financial services clients as they look to balance the needs of supporting their customers, with the demands of regulatory oversight, while ensuring the sustainability of their business models. Most organisations have used the last 12 months as a way to accelerate some of the changes already on their digital, infrastructure and people agendas, and we have seen real innovation and drive in how they have executed to date. I'm really enthusiastic about the prospect of working with our clients to drive forward with those plans now as we, touch wood, emerge from the pandemic in 2021."
Gareth Cosgrove joined the Grant Thornton Corporate Finance team in 2014 and has over 16 years' experience in professional services, providing advice to both SME and larger clients. Gareth has worked across multiple sectors, with a particular focus on manufacturing, hospitality & leisure, financial services, transport & logistics and real estate investment. He is well known in the market to deliver expert advice across due diligence, debt advisory, M&A and valuation. Gareth will be based in our Dublin office.
"We are seeing significant activity across our client base in Corporate Finance. While a number of sectors have been impacted negatively by the pandemic, a large portion of the market is thriving and transactional activity remains strong.
Grant Thornton Corporate Finance's main selling point in the market is our multi-disciplinary service offering, providing a full suite of Corporate Finance services across Lead Advisory M&A, transaction support (due diligence) and company valuation services. Transaction support remains a core part of our business and the strength of the Grant Thornton International network allows us to be alive to Foreign Direct Investment opportunities for Irish SMEs and also support our clients' ambitious global expansion strategies.
We also have a market-leading Debt Advisory business. We anticipate that these services will become a more prevalent part of our Corporate Finance service offering as the economy stabilises and returns to a level of normality, post pandemic, as sectors open up again and liquidity is required.
Since joining the firm just over six years ago, I have seen significant growth across all our service offerings. It is an exciting time to join the Partnership, and I look forward to us continuing on this growth trajectory."