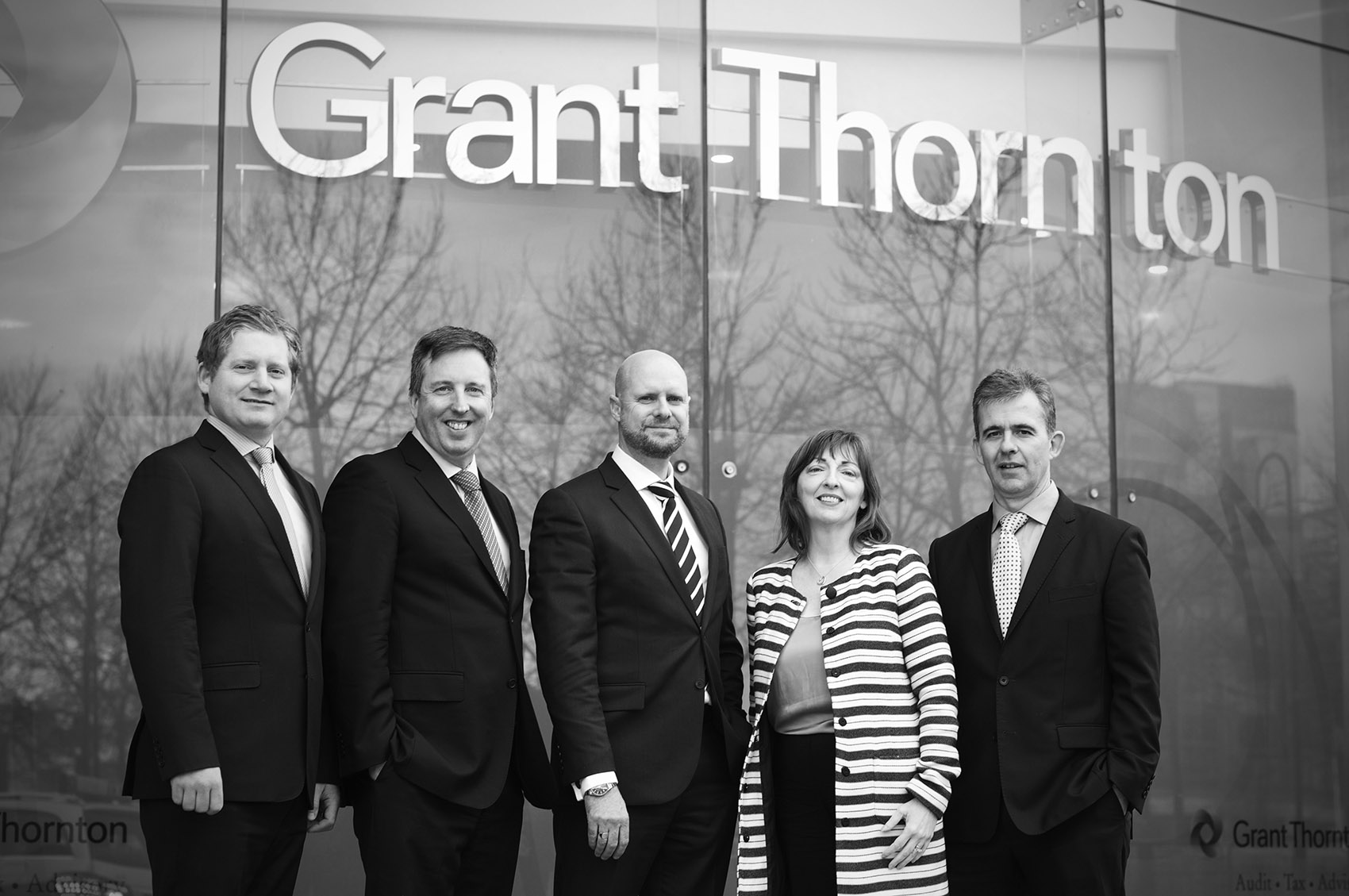 Pic (l-r): Dara Kelly, Paul McCann, Jason Crawford, Niamh Meenan and Damian Gleeson.
Appointment of two new partners necessary to meet firm's ongoing significant growth
Business advisory firm Grant Thornton has announced the appointment of two new partners, marking the ongoing demand for senior level expertise across the business. The appointments, which comprise of two internal promotions from the corporate audit and advisory departments within the firm, reflect the significant and continued growth experienced by the firm over the last few years.
Jason Crawford, Partner in Corporate Audit, joined the firm in November 2014 from a Big Four firm and has almost 20 years' audit experience. Jason's extensive experience includes managing complex multi-jurisdiction audit engagements for multi-national and listed groups as well as advising these corporates on technical Irish/UK GAAP and International Financial Reporting Standards (IFRS) matters. He has provided services to clients across many sectors including, Retail, Agri-food, Higher Education, Property and Construction, Motor Distribution and Information Technology.
Dara Kelly, Advisory Partner, joined Grant Thornton in 2000 as an audit trainee and he was made director in 2010. He recently returned from a three year secondment to New York where he led the Grant Thornton Irish Business group, advising US firms looking to set up operations or invest in Ireland. His experience includes the provision of all aspects of deal origination, international tax, planning, execution and post-transaction integration services. Dara will join the Grant Thornton office in Limerick working across the Advisory and Corporate Finance area, both in Limerick and the wider mid-west region.
Commenting on the announcement, Paul McCann, Managing Partner of Grant Thornton, said "I am delighted to announce these appointments which demonstrate our firm's culture of promoting talent, and encouraging and empowering our people to achieve their potential. As one of the fastest growing professional services firms in the country there is great opportunity for our people to excel in what they do. This opportunity combined with our ongoing growth continues to allow us to attract great talent into the firm."