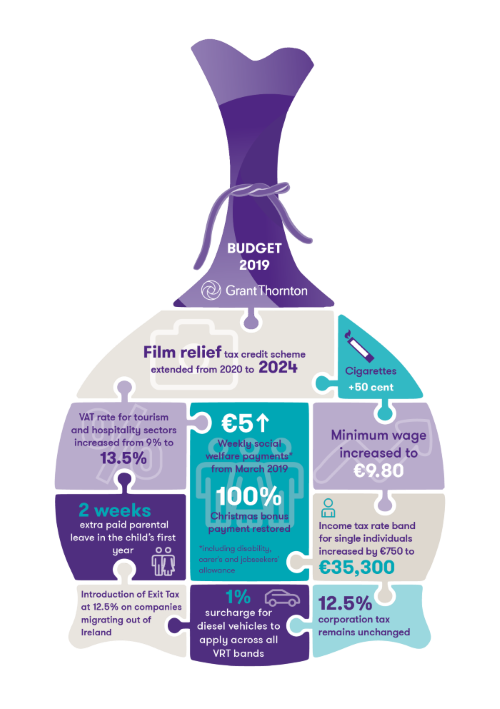 Indirect Tax
The VAT rate applicable to the tourism and hospitality sectors will be returned to 13.5% from 1 Jan 2019, from the 9% rate which it has enjoyed from 2011.
The 9% VAT rate is being retained for newspapers and sporting facilities. It will also now apply to electronic newspapers which are currently taxed at 23%.
Excise duty: 50c increase on a packet of 20 cigarettes from midnight on 9 October 2018.
VRT: extension of relief for hybrid vehicles until end of 2019.
Introduction of 1% surcharge for diesel vehicles across all VRT bands with effect from 1 January 2019.
Betting duty: increase from 1% to 2% with effect from 1 January 2019.
Corporation Tax
Minister Donohoe confirms Corporation Tax rate to remain, stating "Our longstanding 12.5% rate will not be changing".
EU Anti-Tax Avoidance Directive (ATAD) measures announced:

introduction of Exit Tax at 12.5% on unrealised capital gains, where companies migrate tax residence or transfer assets offshore, leaving the scope of Irish tax; and
Finance Bill 2018 to introduce a Controlled Foreign Company (CFC) regime.
Three Year Start-Up Relief for companies extended until the end of 2021.
Film Relief Tax Credit Scheme extended from 2020 to 2024, with proposed new
short-term 5% uplift for productions made in designated areas.
Improvement of Accelerated Capital Allowances scheme for employer-provided fitness/childcare facilities.
Introduction of Accelerated Capital Allowances for gas-propelled vehicles and refuelling equipment.

Income Tax
The Minister widened the standard rate income tax bands and increased the Earned Income and Home Carer tax credits. The Minister also made changes to the Universal Social Charge (USC).
20% rate band increased by €750 to €35,300 (single) and €1,500 (married, both working) to €70,600.
Earned Income Credit increased by €200 to €1,350.
Home Carer Credit increased by €300 to €1,500.
The impact on net take home pay is €289 per annum (€489 if self-employed) for a single person and €578 per annum for married persons (€978 if both self-employed).
Key Employee Engagement Programme (KEEP): Share based remuneration qualifying for capital gains tax treatment under KEEP Scheme increased to 100% of salary. Lifetime cap introduced.
Property & Capital Taxes
Minimal changes were announced in this area:
The Group A CAT threshold, which applies to gifts/inheritances from parents to children will increase from €310,000 to €320,000.
Restoration of 100% interest relief for landlords on loans used to fund the acquisition, improvement or repair of residential properties with effect from 1 Jan 2019 rather than 1 Jan 2021.
No change announced to lifetime limit for Capital Gains Tax (CGT) Entrepreneur Relief
No change to stamp duty rates on property
Young trained farmer stamp duty relief extended for further three years

Brexit & Other measures
€110m allocated for Brexit measures across a number of departments.
Launch of €300m Future Growth Loan Scheme to support the SME and agriculture & food sector.
Work to commence on regulation of crowdfunding activities, to include a review of withholding tax obligations for peer-to-peer lending.
Following independent recommendations, additional staffing resources and funding are being made available to the Tax Appeals Commission for improved IT systems and to speed up the tax appeals process.
A Rainy Day Fund of €1.5 billion will be established. It will be capitalised with €1.5 billion from the Ireland Strategic Investment Fund and supplemented with an annual contribution of €500 million from the Exchequer starting from 2019.