What is The Grant Thornton Irish Funds Sustainathon all about?
It is a collaborative and fun event aimed at bringing the Irish Funds Industry together to identify solutions that promote sustainability.
It is centred around the UN's 17 Sustainable Development Goals. Participants will be asked to assess and identify achievable and impactful steps that the Irish Funds Industry can implement - the proposed solutions could relate to product innovations, new platforms for engagement, corporate initiatives, use of technologies, or other ideas.
What is the 2022 focus?
In 2022, the focus will be on two aspects:
SDG 13: Climate Action "Take urgent action to combat climate change and its impacts"; and
Action #5 (Increase Industry Commitments) of "Ireland's Sustainable Finance Roadmap". This Roadmap was action measure no. 1 under the Ireland for Finance Action Plan 2021. Sustainable Finance Ireland are the lead for Action #5.
There are an increasing number of Irish located financial services sector firms, large corporates and semi-states aligning themselves to relevant climate, wider ESG, net-zero and most recently nature-related commitments.
For example, the fourth annual State of Play report by the UNDP-hosted Financial Centres for Sustainability (FC4S) Network has identified several key areas where more focus is required to underpin progress around the sustainable finance agenda. Overall, the report provides compelling evidence that financial centres' initiatives were characterised by strong growth, increased scope, greater maturity and accelerated action across 2021. Following on from this, 2022 is shaping up to be an important year for financial centres and their sustainable finance activities. The assessment surveyed 29 financial centres around the globe and reveals key insights on how financial centres across all continents are mobilising their capital, resources, connectivity, and expertise to support low-carbon transition and the achievement of the UN Sustainable Development Goals (SDGs).
The teams selected will be tasked with developing solutions for financial centres to increase their industry commitments regarding SDG 13: Climate Action.
More info on the UN's Sustainable Development Goals
The 2030 Agenda for Sustainable Development, adopted by all United Nations Member States in 2015, provides a shared blueprint for peace and prosperity for people and the planet, now and into the future. At its heart are the 17 Sustainable Development Goals (SDGs), which are an urgent call for action by all countries - developed and developing - in a global partnership. They recognize that ending poverty and other deprivations must go hand-in-hand with strategies that improve health and education, reduce inequality, and spur economic growth – all while tackling climate change and working to preserve our oceans and forests.
The United Nations SDGs face a financing gap that has soared to up to US$100 trillion in the wake of COVID-19 and other urgent global challenges, according to a new report by Force for Good in collaboration with the UN and other organizations.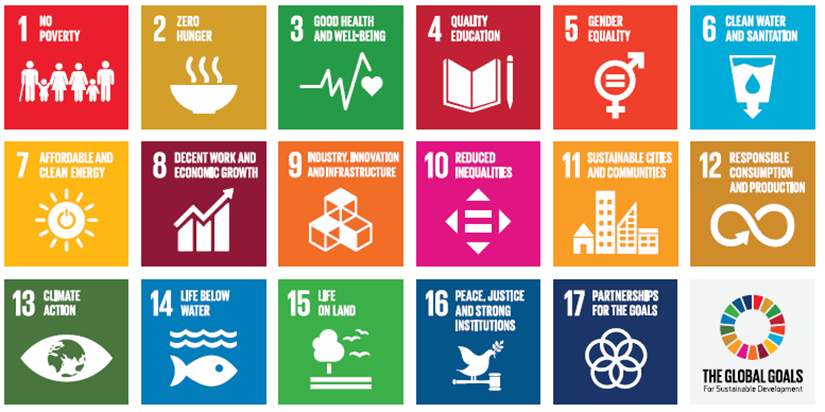 Sustainable Finance Ireland and the UNDP hosted Financial Centres for Sustainability (FC4S) Network
Sustainable Finance Ireland works to position and promote Ireland as a leader in sustainable finance. It achieves this by providing thought leadership, raising awareness on excellence and best practice, building capacity in the sector, and catalysing innovation with supportive frameworks and tools. All activities are aligned with government's Ireland for Finance strategy and annual action plans, including the annual Climate Finance Week Ireland series and the Sustainable Finance Skillnet.
The Financial Centres for Sustainability (FC4S) Network is a collective of 39 financial centres working together to achieve the objectives set by the 2030 Agenda and the Paris Agreement. It is estimated the network represents 80% of the global equity market and US$76.4 trillion equity market capitalisation. The global scale of the collective's vision is best represented by the regional variety of members, who all believe in driving convergence, exchanging experiences, and acting on shared priorities to accelerate the expansion of green and sustainable finance. FC4S is hosted by the UNDP.
Who is the initiative open to?
Individuals at any level from Irish Funds member firms are invited to take part. Also, college students from any discipline (Climate Finance, Sustainability, Sustainable Development, Environmental Science, Finance, Geography and Engineering etc.) are also encouraged to partake.
Why get involved?
There are benefits of participating for both companies and for individuals;
Potential to build your professional brand within the wider Funds Industry
Opportunity to learn from Industry experts
Get to know and share ideas with other professionals
For companies, it is an opportunity to participate in influencing the direction of the wider industry, to support a key Sustainability agenda, and for the potential to drive innovation.
What are the details?
Official registration will open on 27th July 2022, with our virtual launch to follow on the 20th September 2022.
Once submitted, applications will be reviewed and shortlisted by a panel. Due to a limited number of places being available, we will not be able to offer all applicants a place at the event. Successful applicants will be contacted by email. All successful applicants will be put into multi-disciplined teams and each team will be assigned a mentor. Shortlisted entries will be invited to take part in our two-day hackathon to work on their proposal and present this to the Judging Panel (in a dragons-den style), on 19th and 20th October, where the winning entry will be chosen.
The winning team will showcase their proposal at the the Irish Funds Annual Global Funds Conference in May 2023.
Grant Thornton will support the winning initiative to bring it to implementation. This could take the form of providing technical resources, the provision of a workshop with Grant Thornton and the Green Team Network or helping to write a strategy document.