Since the global financial crisis, Conduct Risk & Culture have been hot topics on the regulatory agenda with penalties for misconduct increasing in both amount and frequency. As regulatory scrutiny intensifies in this area and the reputation of firms is increasingly at stake, it is important to stay ahead of the Conduct Risk & Culture agenda by implementing preventative and detective controls.
Our Conduct Risk & Culture services comprehensively cover multiple areas of your organisation so that you can control, monitor and mitigate risks effectively across several lines of defence.
Our Services
Below are four areas in which we help our clients build new Conduct Risk & Culture controls into their organisation, or strengthen existing ones.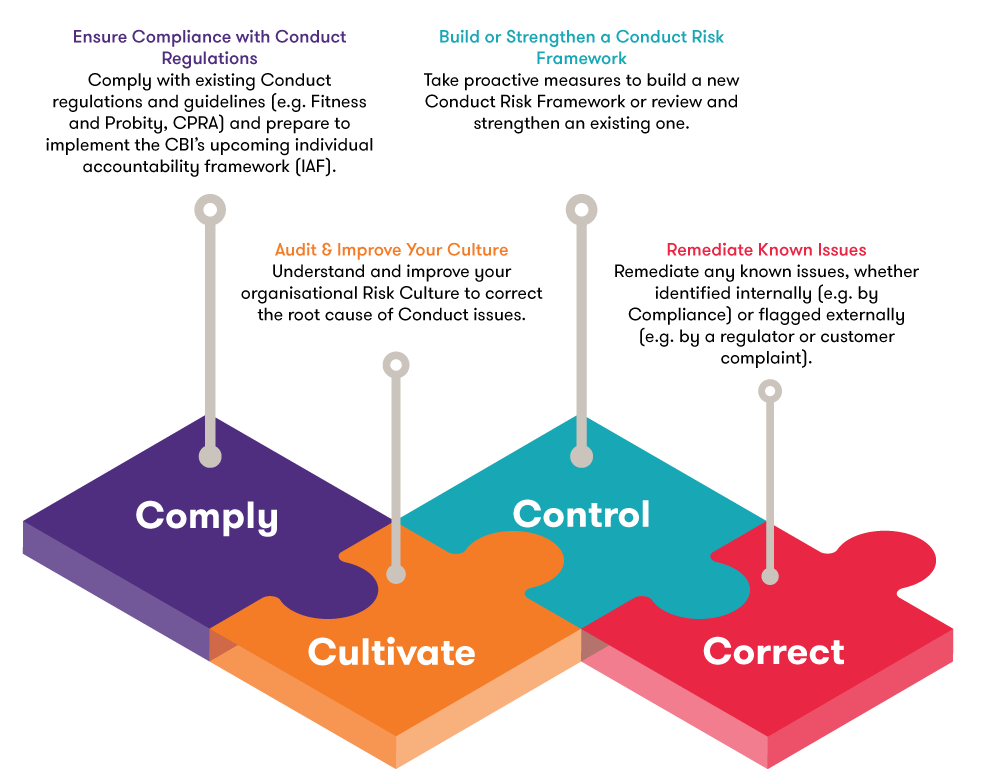 Why Grant Thornton
We understand that managing Conduct Risk & Culture is not a one size fits all solution. With international experience in remediating high-profile conduct issues and implementing accountability guidelines, we have a strong understanding of how to build and strengthen a Conduct Risk Framework that is appropriate for your organisation. We can also help you implement proactive Culture management measures such as auditing your firm's Culture, identifying issues and pinpointing subcultures in which problems need to be addressed.
With the imminent release of the CBI's Individual Accountability Framework and SEAR on the horizon, we can use our domestic and international experience to ensure that you are best placed to implement the new guidelines effectively. With our knowledge and understanding we can help you to pinpoint accountable executives under SEAR, deliver training, facilitate workshops, implement new controls and produce documentation in line with the requirements.
Subscribe to our mailing list
Update your subscriptions for Grant Thornton publications and events.