Utilising new technologies can save your business money and help grow revenues, but implementing and maintaining them can end up costing more.
The IT Business Consulting team helps clients leverage technology, and the people and processes surrounding technology, in order to achieve their goals.
The team achieves this through four sets of services: strategic advisory, IT implementation advisory, IT implementation services and IT support service.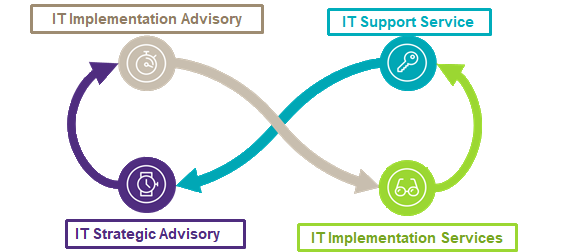 Strategic advisory
trusted advisor service;
IT, digital and business intelligence strategies;
automation strategies;
risk, maturity and benchmarking assessments; and
IT organisation reviews and recommendations.
IT implementation advisory
technical assessments;
service assessment, benchmarking and improvement;
management and board level IT service reporting; and
IT outsourcing / SLA advice and support.
IT implementation services
Robotic Process Automation (RPA) implementation;
systems specification, selection and implementation;
systems improvement;
compliance projects;
project QA; and
data migration.
IT support service
end to end technical support;
SLA management;
vendor management; and
ITIL support governance.