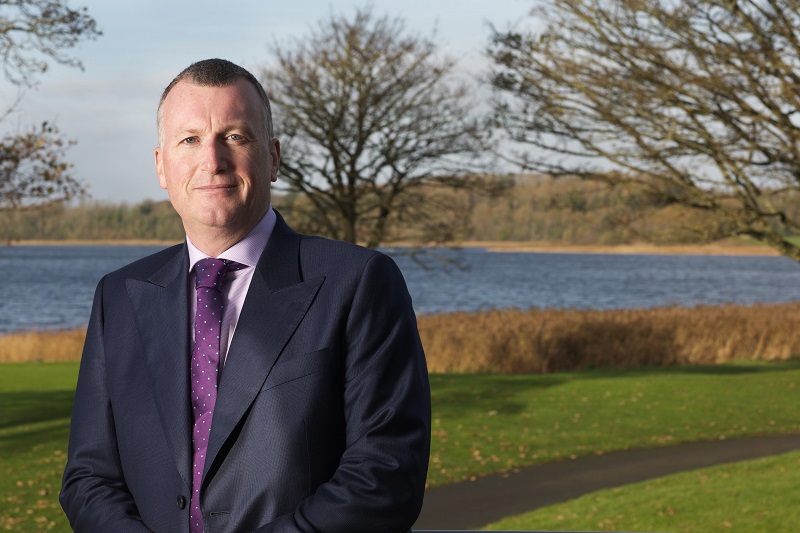 First appeared in the Sunday Business Post 10/12/2017
Michael McAteer is used to seeing businesses in distress. The incoming managing partner of Grant Thornton Ireland has made a career out of being first on the scene when it all goes wrong. As a partner in recovery and reorganisation, the last ten years have been busy for him. But his roots as a corporate rescue specialist stretch back to his first jobs after qualifying in the late 1980s, when he joined up with Farrell Grant Sparks. Those years, too, had plenty of casualties.
"It was the end of the manufacturing side of Ireland," he recalls. His idea of accountancy was always as a bookkeeper; someone who balances ledgers. The reality of frontline recovery jobs, it turned out, was a lot more appealing.
"You could be an accountant in a field in Mayo, with a major steel manufacturing company which made machines that were exported all over the world – understanding what went wrong, what went right, how the supply chain works."
It was much more frontline than most accountancy gigs, he remembers.
Decisions were more driven by strategy, not just numbers. The ability to manage relationships and get strategic calls right was important. For someone interested in business, not just figures, it was ideal.
Before long, McAteer had run a wide variety of businesses, from nightclubs and bars to steelworks.
"I never got the satisfaction from getting a set of books balanced – getting a business sold, going home in the evening, you got the sense you'd done something decent in the day," he says. "There's nothing more satisfying than selling on a business as a going concern, seeing the factory maintained.
"However, getting a business from death's door, through triage and onto the road to recovery is a balancing act. You have all these different people. They're all screaming at you and pulling at you for different reasons, and your job is trying to create a space where everyone can calm down, and you can deal with it in an organised structured manner."
Morale and relations will be low, he says. Shareholders, employees, creditors will all be feeling burned. Part of his job, he says, was to help negotiate this frustrated terrain and act as an honest broker – but also to speak, occasionally, some uncomfortable truths.
"Everyone you meet on day one is going to be pissed off. You take that as red. And the only way you can rebuild trust is dedication and honesty, even if you're telling them something they don't want to hear, it establishes a floor. Previously, trust is low between everyone in the group," he says.
"You're trying to say: 'We're in the shit; collectively we can get out of the shit – it requires us all giving a bit'."
McAteer grew up in Artane in north Dublin. He lived a normal, middle-class suburban life; his family were very involved in politics, and his father still goes door-to-door for the Labour Party at election time. After working with Farrell Grant Sparks, he left Ireland, moving to Australia for five years. While down under, he left accountancy entirely, working in project management before coming back and forming, with Brendan Foster, the specialist insolvency and corporate rescue firm Foster McAteer. Even on his return in 1999, business was good. The country was booming, and, to use a phrase from the time, only getting boomier. But inevitably, the business cycle will throw off quirks, and even when GDP trends upwards, some businesses will go to the wall.
"I only knew one thing, that was insolvency. Even in 99/2000, we could make a living through insolvency. Even back then you had things like foot and mouth, which impacted on the tourism sector; 9/11; the dotcom bubble."
In many ways, the businesses that fail can tell you as much about an economy as the ones that thrive. But as the boom drew to a close, there were strategic calls for Foster McAteer. The company had been built to around 50 staff, but it was, in McAteer's words, "creaking". "We had no payroll, no HR person, no financial controller. We looked at whether we grow to 100 or merge with someone else, and that allows you to get back to what you really want to do."
Eventually, they decided to find a partner, and Grant Thornton was the right fit. Culturally, the partnership model worked, and McAteer had a good rapport almost immediately with Paul McCann, his predecessor as managing partner. It had the brand, and an existing recovery unit that McAteer could bolt his company onto.
"Collectively, it was two plus two getting you five," he says. And, although there were rumblings in the economy when the pair announced the merger in September 2008, nobody could have known just how busy the corporate recovery arm of the combined entity would prove to be over the decade that was to follow. The recession, McAteer remembers, really began to bite in 2009. But when the big beasts of the boom started to fall, his expertise was in sharp demand. Being the corporate undertaker to some of the biggest names in Irish corporate life also catapulted McAteer, and Grant Thornton, onto the A-list.
"The game changer was Quinn Insurance in March 2010. That was the foundation of really moving the brand into the top two from a recovery point of view," he says. According to a parliamentary question from 2016, Grant Thornton has received over €20 million in fees, including Vat, for the administration of Quinn Insurance. Things were operating on a new level now.
Having seen the insides of hundreds of struggling businesses that overindulged during the boom, McAteer says it was getting away from the fundamental principles of commerce, banking and credit that damaged Ireland most.
"It flows from the bottom. Banking traditionally is the engine that fuels growth. Banking is about the banking manager understanding the cashflow and trading business of their client. Ups and downs, exposures. Somehow in the early 2000s, it moved from understanding cashflows and KPIs to being an asset-based lending business. It didn't matter if your business was making money. If your asset went up by a million quid, you got €500,000," he said.
He is also critical of interventions that previous governments made to keep the economy buzzing, even after a natural slowdown began to emerge in and around 2003 or 2004.
"Every country should have a recession. It's a release valve for when you get extra growth. People get lean again . . . our problem was we didn't have the release valve in around 2003/2004. If we had, the crash that came in 2008/2009 would have been substantially less."
Nonetheless, he says the Irish business community has emerged from the recession more resilient than when it went in. It has been a painful process, but also a learning process.
"We learned an awful lot, a lot of businesses became really lean. Businesses that survived 2012, 13 and 14 that are around today. They understand margin, the toughness of battling, they're back to doing business." The only worry, he says, is that a new generation will forget the lessons of the recession. And as the maxim goes, those who refuse to learn the lessons of the past are doomed to repeat it.
"I worry in a four or five-year period that that knowledge starts to evaporate all over again . . . You learn lessons, but when times come good, you can often forget them," he says.
Now, as he prepares to ascend to the corner office in Grant Thornton, McAteer must face the challenges of recovery, rather than the fruits of recession. The automatic stabilisers of rescue and recovery helped the firm grow through the recession – but now, as they ease off, he must plan right across the Grant Thornton portfolio to ensure recovery is as profitable as recession.
"As the audit side of the business was under pressure, the insolvency business helped. Now, it's becoming less of a share of the business. We see growth areas right across advisory in things like cyber, data analytics, consulting, corporate finance," he says.
The corporate finance business is benefiting from a boom in dealmaking, but one of McAteer's jobs will also be to make sure that after being a recession winner, the firm doesn't see its gains eroded. Part of the downside of growing during the recession is managing the impact of constant wage growth on his bottom line.
"All during that period, there were jobs for accountants. Unlike solicitors, accountants were employed throughout the recession period. Wage inflation happened, but firms couldn't pay for the audit fees, so margin has gone substantially down."
Even now, across the sector, there will be 1,400 accountants qualifying this year for 1,800 or 1,900 jobs, he says. This means Irish accountants have to import graduates from other jurisdictions and that qualified experienced practitioners can expect their wages to grow by between 5 and 10 per cent per year. In the long run, McAteer says this may lead to some awkward challenges for the business.
"One of our challenges is to ensure firstly we have the right people doing the right work. If you have overqualified people doing low-level work, that's going to impact on your margin.
"One of the hardest things is you have to look at your client base and say 'We're losing money with this client, and we've got to basically either get the fee up to where it works, or the client has to go somewhere else.'
"That's a hard conversation to have with a client who may have been with you ten or 15 years or 20 years. You don't take that decision likely, but the economics don't work unless you have those conversations."
These are the kind of issues that fall under the heading of 'good problems', it must be said. As for the future, McAteer says he is excited. "I've done the same job for 20 years," he says. "Now I can use some of those learnings I've got from helping other people's business."