As we enter the second machine age, the pace of change in technology is immense. That pace and the advances in digitisation are disrupting many traditional business models but are also changing the manner in which those disruptors, in the technology and media industry, build out their own business models.
Tomorrow, we can expect new technologies enabling the internet of things to create opportunities for future fast-growth companies. Some will become industry leaders – the Xiaomis and Ubers of tomorrow. Others will represent an existential challenge to established companies. Many more will fail – either because their offering wasn't differentiated enough, or because their management made the wrong decisions.
But as they look to scale, today's fast growing Irish technology companies are in a radically different position from those in the prior decade. Their ability to source talent, set up new operations and sell to customers online means they can be global from day one. Cloud, mobile and internet IT infrastructure reduces capital cost allowing them to scale infrastructure on a pay as they go basis.
Whilst many of these early stage companies may not yet be profitable, they are achieving sizeable valuations, albeit these are grounded in more reality than there forebears. Whilst that could in one respect mean that it is easier to scale the next great technology, will the relentless pace of technological change mean they sell before the valuation hits the inflexion point of big to mega?
Read the full briefing
Download PDF [8939 kb]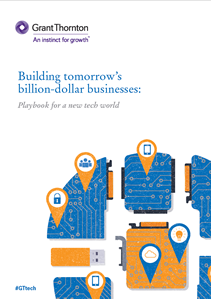 Operations
The burning tightrope
Corporate Finance
Raising the growth capital you need
Tax
Navigating tax in a digital world
Cybersecurity
Golden rules of cybersecurity
Growth
Global on day one: Tackling international markets