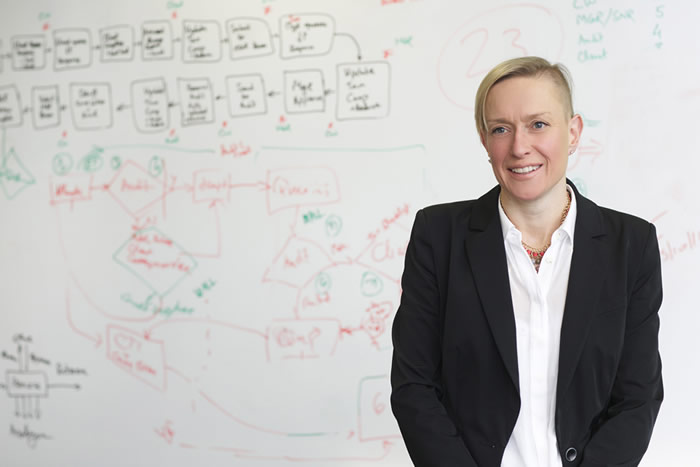 The rapid pace of technological change over the last three decades has not only transformed society and the way we do business it has also done much to advance diversity, inclusion and equality in the workplace. While we still have a long way to go, the progress made during that period in terms of women's roles in business and throughout society has been tremendous.
When I joined the accountancy profession in 1990 the world was a very different place. We didn't have email or mobile phones to begin with, the concept of a PC on every desk was still very much a concept and Ireland was just about to elect Mary Robinson as its first woman President. Irish boards were bereft of women and apart from notable standouts like the late Gill Bowler, business leaders were, almost without exception, men.
Things are a lot different now. Look around and you see women in top leadership positions in Ireland in organisations such as Vodafone, Microsoft, PayPal, Facebook, Dell and Google. The fact that all of these organisations are in the broad tech space is no coincidence. The technology sector leads the way when it comes to diversity and inclusion policies and Ireland is fortunate to have so many of these companies here to act as exemplars to others.
But it is not just technology as a sector which is leading to greater participation of women at senior levels, it is the technology itself.
When you look back to 1990 it is almost difficult to understand how we did business at all. Everything had to be done face to face or on a fixed telephone line. Nothing could be done remotely, you had to be on location for everything. Now we have email, skype and various other services available to us 24x7. That has been a huge leap forward and has very much levelled the playing field for all people, particularly for females because of their traditional family role.
This is one of those "elephant in the room" things. It has long been noted that female academic performance is at least equal to if not better than that of males and many organisations in professional services and other sectors have had a policy of recruiting equal numbers of male and female graduates for quite a number of years – but that hasn't translated into equality at partner or board level.
In many cases this is due to career progression being affected by women taking on family responsibilities during what could be their most productive years in the workplace. And this isn't limited to maternity leave; it's all those other things like having to be home at fixed times for children and an inability to travel at certain times of the year or even just the normal parental decision that a family holiday is more important than something happening in the workplace.
The person, male or female, who could stay late, forego holidays, be available for onsite work with clients or meetings at awkward times, or was simply in the office earlier than others had a better chance of being promoted than those that couldn't.
This was a natural state of affairs and there is little point complaining about it. After all, what's wrong about being committed to your work and willing to put in long hours and extra effort?
Where technology has made an enormous difference is that it has levelled the playing field in a way which allows everyone to put in these hours and this amount of effort if they want to. It makes it possible to have a family and have a career without compromising on either.
You can go home and be with your family and then put in a full day's work from 8pm to 12 if you wants to. In the old days, when you went on holidays you couldn't be contacted – you were gone. Now, if you want it, you can be contacted anywhere at any time and you can connect into the office network to participate fully in meetings and decisions if necessary. Technology allows your voice to be heard at the table regardless of where you might be sitting.
The technological advance has also been accompanied by a cultural change. Business doesn't have to be conducted in formal face to face situations anymore. Efficiency and outcomes are more important than physical presence. This has undoubtedly been influenced by technological advances but it has also been instrumental in the changed environment for women in today's workplaces.
The fact that the tech sector itself has embraced diversity to such an extent is also important, particularly from the point of view of having more female role models out there. It is often said that "you can't be what you can't see" and this has certainly been a limiting factor for women in the workforce over the years.
In this context, Sheryl Sandberg of Facebook deserves recognition for her excellent work not only in acting as a role model for other women but also for advising women that they need to do more in terms of promoting themselves. She has been a huge influencer with her advice to "lean in" and her advocacy on behalf of women.
Mark Zuckerberg too is deserving of praise with his famous comment that women "shouldn't marry the nerd, they should be the nerd." Steve Jobs was also very pro-diversity in its widest sense covering gender, sexuality, ethnicity, and so on.
The culture in technology companies allows women to lean in. They are moving away from traditional business and organisational models and this can only be good for diversity.
Of course, there is a degree of enlightened self-interest there as well. All the research shows that companies with more diverse leadership teams perform more strongly than their peers.
We need to look at how we can take this culture and bring it to other organisations and sectors. In the first instance we need to promote more female role models in this country. That will take a conscious effort but it can be done and there are some very inspiring initiatives being undertaken at present.
The iWish programme, for example, is just fantastic. It promotes STEM subjects to schoolgirls and has been hugely successful. There is also the 30% Club which promotes a greater gender balance on boards.
But we need to think about the way we organise in other areas as well. There is subconscious conditioning in how we do things. Take the after-school activities for our kids, for example. You frequently see coding put on at the same time as yoga or dance. That is a clear case of someone subconsciously genderising a subject. A little more thought can put an end to that – as can some fairly basic scheduling software.
The same goes for sport. Girls drop out of sport too early but it's great for self-confidence, self-esteem and mental health. I have certainly found sport to be a great leveller throughout my career. Being technologically adept is good for both girls and boys but it shouldn't be at the expense of their physical fitness.
Having said all that, technology has made things much easier and better for women in all walks of life while the technology sector has led the way in creating a culture which embraces diversity and provides role models for us all to follow. I am confident that the progress made over the past 30 years will only accelerate and that we will see much greater numbers of women at the top across all areas of society but we cannot just sit back and wait for it to happen. Organisations must utilise the latest technologies to become more diverse and women must use the tools available to them to advance their careers while also learning to lean in and self-promote more.