"The key to success lies in creating links between all parties who play a role in the transition to circular agriculture"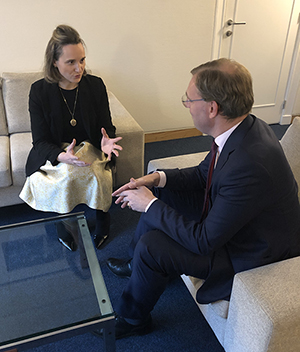 (Ministry for Agriculture, Nature and Food Quality of the Netherlands Vision 2019)
It was enlightening to meet with the Dutch Ambassador to Ireland, Adriaan Palm, recently, to discuss key focus areas for The Netherlands around this sector and how we in Ireland can learn from and collaborate further, with our Dutch neighbours.
Ambassador Palm has been in this role in Ireland for only 9 months, but has already made great inroads into understanding where Ireland is currently positioned from an Agri-Food perspective, right across the supply chain.
From speaking with him it is clear that he has a wealth of knowledge in this space and is keen to further develop relations between our two countries. He clearly wants to understand the need for change within the sector, both in terms of approach and mindset, stating that using knowledge is not enough, and that we must also share experiences if we are to innovate and adapt.
In asking to give a Dutch perspective on items that included: "where the Dutch agri-food economy currently sits"," how we can do more"and "how we can learn from each other", here is what Ambassador Palm said:
As the second largest agri-food exporter in the world tell me a little bit about the Dutch agri-food industry?
The Dutch agri-food sector differs from Ireland in that the Irish sector is focused on beef and dairy, whereas the beef element is very small in the Netherlands. Dutch manufacturers really look to niche markets where there is value added and to where they can drive profits. This value-add approach could already be seen in the "glasshouses movement" where we began using systems to produce year-round products for which the sector could attain premium prices, globally. In regard to this industry, we have since advanced to making glasshouse production more sustainable by reducing water use and using solar energy. We have also diversified how products are sourced. A key example is the cut flower market, where roses are hardly produced in the Netherlands, but rather sourced from Dutch growers in Africa, thereby finding value outside of the Netherlands. Also, our primary producers are very business focused. Education is at the heart of what is driving the sector, with the majority of farmers having degrees in applied science or other relevant university education qualifications. They are conscious of the need to be ahead of the competition, if they want to make money.
Ranked No. 2 in Europe for private R&D investment in agri-food, the Netherlands is home to a highly concentrated industry cluster that engages diversified agri-food companies with impact-oriented knowledge infrastructure – can you tell me a bit about these companies and the type of R&D that takes place in Holland?
The Netherlands is ideally placed to facilitate the use of R&D machinery on farms and in industry, given our flat landscape and the manner in which we have uniformly sectioned and compartmentalised land. This has also made it easy to lay out our glasshouses in straight lines, so tomato picking robotics is being used to pick the product and in open field potato harvesting it has been done this way for a long time. Given the lack of elasticity in demand for crops, technology must be used to minimise cost of production.
To facilitate innovation, the Dutch government realised they needed to create an enabling environment. This is how "Holland's Food Valley" in Wageningen was conceived. When creating this economic system, the government brought different stakeholders such as universities, research institutions, start-ups and larger companies together, achieved consensus at the outset with all the main players, and created innovation hubs, which have been developed and supported by wider infrastructural planning.
Is there strong collaboration between universities, research organisations, businesses and public-private initiatives in Holland? Can you tell me about "Holland's Food Valley"? It's a great example of agri-food collaboration.
The Food Valley consists of more than 1,510 international food companies and 20 research institutes, including Wageningen University and Research. We have adopted an integrated approach and a hub system, whereby people can move from university to start-up hub and into a scaling model. There are central supports around research, funding, go-to-market strategies and supply chain access. A funding model is important to enable collaboration, and in the Netherlands, we have Rabobank, traditionally a farmers' cooperative bank. Rabobank is nowadays a leading bank at global level, in food, agriculture and sustainability financing. They know the market, have the sectoral knowledge and therefore, provide the funding platform needed for innovation. A network/hub environment also organically aids creativity and collaboration around R&D while allowing businesses and individuals to prosper.
Dutch start-ups attended the Irish Ploughing Championships for a third year in 2019. These included, Van Boven, an AgTech start-up providing predictive data on vegetable crop yield throughout the value chain and Connecterra, who are developing AI to facilitate growing food sustainably into the future. Dutch businesses are focusing on very specific areas within the sector, where they know they can deliver something concrete. Seeing established companies like Unilever move to the Food Valley, shows the power this type of supporting structures have on innovation and how a range of businesses can develop new ways of co-operation.
The Netherland's agri-food industry frequently collaborates across other countries and currently has joint projects in place with Ireland, how can these types of collaborations benefit economies and society?
R&D investment in agri-food is still too low globally. Countries and businesses must always look to the other side of the fence, not just at home. Businesses have to be able to adjust quickly to change, they have to be agile. Both sides must profit, while also learning from each other's different environments. The exchange of knowledge is key, if we are going to adapt and improve, but what works in one country may not work in another. We hope that current collaborations with Teagasc and also the Lighthouse farm project, will create that culture. It's not enough to just exchange knowledge globally, we must also share our experiences to truly understand the impact.
As a European country you have very strong trading relationships with Europe's 500 million consumers. Being a member of the EU, what are your main concerns around Brexit?
If Brexit happens, we will all be affected negatively, but from an agri-food perspective particularly The Netherlands and Ireland. The Dutch, via the EU, want to build a relationship for the future but it is very much up to the UK to indicate what form this relationship should take. The business community needs clarity around what form Brexit will take, they need certainty to be able to prepare. The Irish and Dutch governments have been preparing, they have been hiring the right type of people, including veterinary staff. All large companies have prepared as best they can. We have tried to reach out to all businesses in our country, sometimes using other channels, such as via contacts from our banking systems. We have also been reaching out to other countries and businesses in their territories to discuss how logistics and supply chains will be impacted and what actions are needed. We are thinking about how the current deal that is on the table will work on Day 1 and think we know but can never be certain until it actually occurs.
The Dutch are well known for their efficient use of natural resources and with the focus on sustainable supply chains, what do you see as the future?
Agri-food strategies need to change to facilitate sustainability. We need to move to a circular model, with zero waste, while also ensuring famers get a fair price. It's about not just setting goals to 2030 but to 2050 and beyond. The Climate Action Plan in The Netherlands, published in 2019, is based on extensive consultation from all sectors, considering what we need to do and what is attainable. We need to change our approach globally and peoples' mind-sets. It's about using the knowledge we have and developing it further, but also sharing this and building partnerships abroad. The Dutch farmers have been very active and flexible in using solar energy on farms. In the Netherlands, focus is now also on building windfarms in the North Sea. I'm looking forward with great interest to the new EU Commission's Green Deal, which I hope will be announced before the end of the year and help us achieve our sustainability goals.
"Every sector in society has to contribute, in order for our climate change goals to be achieved"