Tara McCarthy is the Chief Executive of Bord Bia. Tara has over 20 years' experience in the wider food industry, having operated in overseas markets for 10 years in Germany, France and Belgium. She holds a Bachelor of Commerce degree with an MBS in Marketing from Smurfit Business School.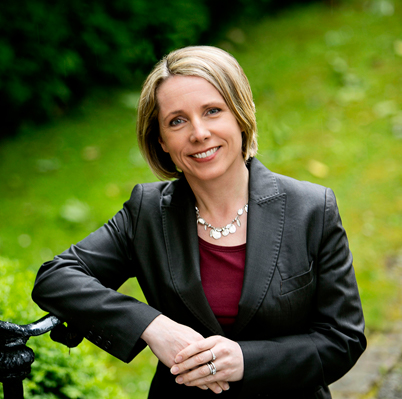 Bord Bia acts as a link between Irish food, drink and horticulture suppliers and existing and potential customers throughout the world. Their objective is to develop markets for Irish suppliers and to bring the taste of Irish food to more tables world-wide.
2017 has been a turbulent year for the agri-food industry with many positives but significant challenges – what do you consider to be industry's greatest success in 2017?
In my first year as CEO of Bord Bia I was impressed by the resilience of the industry in the face of market challenges and the enthusiasm of industry players to look to innovation and new ways of operating in order to achieve their targets. This was brought home to me forcefully in our partnership with them on our Brexit Barometer and in the three Ministerial led trade missions to the Gulf region, USA and Mexico and most recently Japan and Korea.
The Irish agri-food sector has performed strongly again in 2017, albeit against the backdrop of a challenging macro-economic environment. Do you think that the industry is still on course to achieve the targets set in Food Wise 2025?
Yes the industry did perform very well in 2017 driven by the targets for sustainable growth in the industry-owned Food Wise 2025. Just like one`s own personal New Year`s targets its success will depend on the resolve of the players to back themselves to find solutions to the challenges ahead.
I am a member of the High Level Implementation Committee (HLIC) which monitors Food Wise commitments and its progress on a quarterly basis and can tell you that 96% of the 417 actions due to commence in 2017 are active with a considerable number achieved. I also participated in the Food Wise conference in Croke Park recently which was hosted by the Minister in front of 600 or so industry representatives. The mood there was very positive despite the Brexit challenge and the targets for sustainable growth at the heart of Food Wise were endorsed strongly by industry.
At Bord Bia we have accelerated our prioritisation of international markets to adjust to Brexit but this is something we would have been doing in any event given the exposure of our industry to the UK market.
Brexit is a significant challenge for the entire industry. As our largest exporters have grown many of them have developed a diversified portfolio of export markets, while maintaining significant trade with the UK. For many SME's there is a significant dependence on the UK. What is Bord Bia doing to support these companies and also help the next generation of food exporters to identify potential alternative export markets.
In light of all the uncertainty and speculation attached to Brexit, we responded with a data driven, evidence based approach. We launched the Brexit Barometer process last March to measure company-level exposure to the UK market and risks associated with Brexit. It covered 139 companies across all sectors accounting for approx. 65% of all exports to the UK.
It also outlines company-specific mitigating actions to be taken to reduce risk. Work was completed in June and revealed that the biggest risks faced by Irish food and drink companies are route to market, supply chain management, customs compliance and exchange rate management.
We're now using our data and analysis to engage in strategic planning and implementation. It became clear that in order to become increasingly effective, we would need evolve where we place our emphasis going forward and so we are building functional depth in 3 critical business areas of:
insights – how we make decisions based on consumer, customer and market insights;
route to market – how we get to market and realise growth ambitions;
Origin Green – how we communicate our distinct proposition.
If you've the three of those working really well together, that's what drives growth. The Minister for Agriculture, Food and the Marine and his Department are strong supporters of this approach and provided €6.7 million in additional budget funding to accelerate new strategic projects under these key pillars.
At Grant Thornton we have tried to focus on the opportunities that Brexit may present. In particular we see scope for growth for Ireland's Prepared Consumer Food sector and even more potential for our prospering whiskey exports. Given the negative rhetoric around Brexit are there opportunities that the industry may be overlooking?
While Brexit has created real challenges and uncertainty for the prepared consumer food sector we are witnessing a very strong response from the sector. With 65% of export revenues coming from the UK market the sector has been very active in defending and in some cases growing its share. Consumer centric innovation, market insight and relationship management has been key. We are also supporting this sector to explore market diversification and we have seen increased participation in our international Trade shows, trade missions and in market supports. Our market prioritisation report is focused on identifying new opportunities and this will be the blueprint for future in-depth market development.
The Irish whiskey industry has a strong and growing international footprint with global whiskey consumption doubling from 2005 to 2021. With premium whiskey expected to see growth of 28%,Irish whiskey is primed to realise this opportunity. Once again our market prioritisation report combined with intensive consumer insight activity in 2018 will provide direction and support for this sector.
In light of Brexit has Origin Green become an even more important differentiator for the industry and how can we further leverage our sustainability position?
Sustainability in food production is increasingly a consumer demand in Ireland`s mature markets and also in emerging markets especially in Asia. Retailers are looking to food suppliers to provide product that responds to this demand and Ireland`s national Origin Green programme provides exporters with a unique selling point in countries where sustainability is increasingly in demand.
We also understand that sustainability is perceived differently in different international markets and we are investing in consumer insight to ensure that we understand consumer trends so that we can respond to them.
Over the past 5 years of the programme we have welcomed membership from farmers, food producers and more recently retailers and foodservice operators so that now over 90% of exports are covered by the programme.
We can leverage Origin Green further by engaging all stakeholders to drive efficiencies throughout the supply chain.
Bord Bia has really flexed its global presence in 2017 with trade missions to Mexico and the US and Asia as well as initiatives for markets in the Middle East and Europe.
i) How successful have these trade missions and initiatives been?
ii) Have you identified regions to focus on in 2018?
Trade Missions are a fundamental part of our 'routes to market,' strategy to help Irish companies access markets and grow their exports. 2017 has been a particularly successful year with excellent company support of the 3 missions we delivered to the Gulf region, the US and Mexico and most recently to Japan and Korea.
The leadership of Minister Creed and his team helped negotiate expanded access for Irish beef in Saudi Arabia and progressed Ireland's access for pig meat to Mexico. Brexit has highlighted cheese as being a sector that has the potential to be significantly challenged in the medium term. With cheese consumption growing in Japan and South Korea and the positive proposition of the Japan EU Economic Partnership Agreement, we consulted with industry and decided it was the right time to increase our efforts in the region. In the United States we received USDA accreditation for a number of marketing claims for Irish beef- legitimising our unique selling point versus local competition and a 'reason to stock,' for US retailers.
With Irish food production increasing it is becoming increasingly important to continue a significant marketing focus to diversify our exports. Trade missions are a vital part of this effort and will continue to be so for the foreseeable future.
We are consulting with industry before sitting down with our colleagues in the Department to map out our target destinations for 2018 missions. In recent weeks we produced our Prioritising Markets Report which will inform our recommendations for 2018 with its profiles on potential markets under key indicators of demographics, economic forecasts, import reliance and barriers to entry. From this we have determined the most appropriate markets for early 2018 and Minister Creed will lead us to the United States and Canada. In the early months of 2018 we will be proposing two to three further destinations.
In addition to Bord Bia's presence on the ground in local markets, the Bord Bia insights team also enable Irish exporters to get closer to the consumer. What is the greatest change in consumer trends that you have seen in 2017 and how can the industry capitalise on this change in 2018?
We have been tracking trends for more than 10 years now at Bord Bia. Trends help us identify commercial opportunities and understand consumer needs both now and into the future. When we talk about trends we are looking at sustained change in consumer behaviour over a three to five year period. One trend that is really starting to become more mainstream is responsible living. We are hearing consumers talk about wanting to live more responsibly and make better choices without having to compromise. In fact consumers are expecting brands to behave in more environmentally and socially responsible ways so that they can make the more ethically informed choices they desire. Reducing food waste is another example of a big concern among consumers. The real opportunity here is for businesses to start building and communicating their environmental and social credentials which in turn highlights the opportunity that Origin Green presents.
A Grant Thornton report on behalf of the UK Food and Drink Federation suggests that the "UK Government should look to Bord Bia as an inspiration in creating a specialist export organisation that will turbocharge sales of UK food and drink globally" and describes Bord Bia as "a driving force in promoting and supporting Irish exports".
Bord Bia has established itself as an internationally recognised success story. How will Bord Bia build on their existing success and does the organisation need more government and industry support to achieve its goals?
Bord Bia works closely with Government and industry in shaping our strategy and actions bringing a clear focus to our deployment of resources. We are currently completing a Market Prioritisation study that identifies 15 priority markets for dairy, meat, prepared consumer foods, beverages and seafood. This study brings an insight driven approach to where we invest our resources as an organisation to ensure that we help the industry to diversify its exports through targeting potential opportunities for growth that Ireland can supply.
Bord Bia is currently in the process of developing a new suite of Route to Market services to help client companies grow their business in existing and new markets. The suite of services will range from marketing strategy development to those that will assist client companies in the implementation of those targeted strategies in key markets and channels.
Over recent years Bord Bia has consistently received increased budget allocation and through ongoing collaboration with our Department of Agriculture, Food and the Marine and industry we will work to ensure that we continue to invest the right resources in the right type of activities for impact.
Now that you are almost a year in the role of CEO have your strategic priorities changed from when you re-joined?
I was keen to review our growth strategy "Making a World of Difference" 2016-2018 in the light of Brexit and concluded that while the strategy remained robust we needed to accelerate specific Brexit proofing actions drawn from the three core strategy pillars of insight, route to market and Origin Green. These Brexit proofing investments will deliver the key knowledge, competencies and skills necessary for client companies to navigate the challenges around Brexit. They will be durable and capable of adaptation across sectors, categories and markets over the coming years to match the changes required for continued market growth. They have been informed by thorough analysis through.
Do you think that enough is being done to encourage women to pursue senior executive roles in agri-food?
More proactive engagement on the part of Irish companies is needed to ensure active participation of women at senior management level. The business case is clear; for the Irish food and drinks industry, attracting, retaining and developing talent is one of the largest risks facing our sector. Its future success will require the best management expertise from the widest possible talent pool and skillsets. We need to ensure we're demonstrating real leadership in this area.
Bord Bia is supporting the Agrifood Diversity & Inclusion Forum and we plan to share results of this work in 2018.