John Teeling may be considered by some as the father of the Irish whiskey renaissance.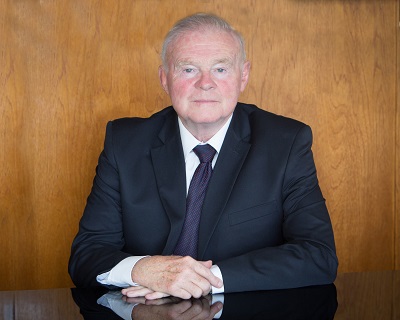 He lectured in Business Administration at University College Dublin and developed a series of mining and oil exploration companies. He currently chairs oil, diamond and zinc explorers.
In 1986 Cooley was set up in Co. Louth followed 19 years later with the re-opening of the long closed Locke's Distillery in Kilbeggan. The venture took 11 years to make a profit and 15 years to payback but changing tastes in the early 2000s favoured Irish whiskey and sales boomed. Cooley was bought by Beam/Suntory in early 2012. From sales of 2.5 million cases in 1986 Irish whiskey sales is now 10 million and growing at double digit rates. There was one company in 1986, Irish Distillers, distilling in Cork and Antrim. Now there are 20 plus distilleries built or planned. John has set up 5 of these and his sons the sixth, Teelings Distillery. His current interest in the whiskey industry rests with Great Northern Distillery based in Dundalk which he founded in 2012.
John, you've quite an impressive bio – can you tell us how it all began?
I started my trading career early at the tender age of 12 at home with the guys on road. We would play marbles, which I would win and then sell back to the guys for 3pence. I also loved Kimberley and Mikado biscuits. I would buy a pack, sell then individually for a price that would cover the cost of buying the pack and I then could eat the rest myself at no cost.
My father died when I was 14. I was the eldest of 4 children and has to step up to help run the family insurance agency and money lending business after my father's death. It was a wet November day in 1960 that I reflect on as a defining moment for me. I had to go on a job to collect money, I was cycling my bike, I was cold and wet and the journey was all uphill and I didn't want to do it. However, I couldn't go home to my Mother without doing the call. So I just forced myself to do it. I did what had to be done, despite the situation and for me nothing has been as difficult ever since, even though he has done okay.
Scholarships to UCD and then Wharton School of Finance in the US gave me a grounding in business. While in UCD I got involved in share trading and was very active in this area from 1972-1986. I used the Benjamin Graham Model to trade shares (net, net, asset model). It is the same model as Warren Buffet uses but in my mind he doesn't use it to its full potential as he may not be a true believer.
My first start up was in 1983, with an exploration mining venture called Minquest Resources which took various private equity stakes in Kenmare, Avoca and some others. My interest in the mining and energy resources area stems from the thrill I get from being involved and the potential there is to make a huge discovery which is so rare. It keeps me young!!
My interest in whiskey began while doing my Doctorate while in Harvard in 1970. I chose to write a thesis on how Irish whiskey was marketed in the US. Will completing this I saw the fall that had taken place in the Irish whiskey industry during the ages and thought I could build a distillery to reinvigorate this market. It was not until 1986 that I managed to source the funds to build one - Cooley Distillery.
In the past you've listed four things that every entrepreneur needs as
An idea
Resources
The ability to deal with uncertainty
The determination and energy to see it through
Do you think that each of the four has equal weighting?
The critical requirement is the idea, vision or concept. It has to be something you believe in totally and absolutely. Without this there is no enterprise. If you haven't got the drive and belief in your own idea to make it happen it won't work. You need that fire in your eyes.
Resilience is also key, as there will be ups and downs and you must muddle through.
An occasion I clearly remember which required resilience was with Cooley Distillery in the 1990's. We has relied on BES funding to support the growth of the business as there were limited forums at the time to raise funds. In the early 1990's the government withdrew this type of funding leaving us with no ability to raise funds.
We had to take a hard look at the business. We decided to stop distilling but were lucky enough that we had some mature whiskey to sell which helped cashflow. However, this decision did impact on our growth and expansion plans at the time but allowed the business to continue.
Resources can be sourced externally but an idea, the ability to deal with uncertainty and the determination are internal characteristics – do you think that entrepreneurs are born not made?
I truly believe that there is an entrepreneurial gene or some differentiating factor in certain people when they are born. There is a saying
' One half of 1% of the population are entrepreneurs but nobody knows which half'
As I have gotten older and have gained experience in various ventures I have come to believe this statement really is true.
My advice to entrepreneurs in business are two words – DO IT
Ireland exports the vast majority of its agri-food produce – however most of this is exported as raw material/ingredients/own label products. Why have Irish agri-food companies struggled to build globally recognised brands?
Food at consumer level is an FMCG – Fast Moving Consumer Good. This industry is usually a brand intensive, marketing intensive oligopoly. Most routes are dominated by a few multinationals. It is so hard to create a niche and compete against the multinationals given their buying power. The challenge is route to market. To get on the shelf and shelf rotation requires brand recognition. These businesses need massive resources and time.
I am not a Brand believer; my sons are. Twenty years ago in Cooley it was estimated that it could cost up to €100 million and take at least a decade to develop a brand in whiskey. I applaud the success that Jack and Stephen are having with the Teeling brand. Their strategy is marketing intensive, costly with no guarantee of success. They have made giant strides.
What do you think are the key success factors in building and scaling a global brand?
I am in awe and admiration of Kerry and Glanbia – yet you ask how much of their sales are their own brands? For me joint venturing is the best way to build scale but you have no control over the brand or the route. If the business hasn't got the scale you need to join-up with the larger companies, who may not necessarily have the innovative ideas of your business but who can provide an access route to the market. The risk is the larger entities may look to take over your brand and then you have a choice to make. Being a finance person, my view is that at that stage it is good to consider taking some cash off the table.
There is also the conflict between brand and own label to consider. Own label gives you the cash flow, possible scale and the discipline of meeting exacting standards which helps your business to grow but again you don't have control, certainty of sales and are not receiving a brand premium.
You need to be able to differentiate your branded versus own label product. In the whiskey industry if it is coming from the same distillery, this can be done by using different pots and casks and altering the manufacturing process.
The US market is seen as a cash cow currently for this product category but where else do you see opportunities for the growth of Irish whiskey? Is there a risk tastes and trends could change in the US drinks market?
I don't believe for a second that the US is a cash cow for Irish Whiskey. It is extremely expensive to market there. The attractions are English speaking, fast growing, and cultural similarities. But it will be a graveyard for some labels. The reason being it takes about 18 months to get established, before you know your market and can determine your repeat sales. This timeline requires large resources to fund.
In my view Eastern Europe, Asia (Thailand, Philippines, Taiwan), Africa (South Africa and West Africa) all have big potential for the whiskey industry.
As Brexit looms it looks increasingly certain that no matter the outcome trading with the UK will become more expensive. This may make Irish whiskey more cost competitive than scotch whisky in mainland Europe. Should Irish producers look to capitalise on this and develop a peated/smoked Irish whiskey as direct competitor to scotch?
Firstly, peated malt is about 10% of malts which are about 15% of total whiskey sales, i.e. 1.5% of overall sales. Secondly, there is a peated Irish malt, Connemara, with more to come from us in GND, but it will always be a segmented offering.
I have little concern over Brexit. The weakness of Sterling does not help but the UK is a small market for Irish, worse is the impact on US sales where cheaper Scotch brands try to compete with Irish whiskey.
Barriers into the EU from the UK would help Irish in Europe.
Irish whiskeys are premium so price is secondary. We will never compete cost wise with Scotch – nor should we.
Irish whiskey once dominated the global spirits category before a perfect storm of WWI, the introduction of blended whisky, fires, the war of independence and prohibition caused its demise. Today Irish whiskey is the fastest growing spirit in the world. What does it need to do to maintain this momentum and dominate the global spirits category once again?
Irish distillers refused to accept that a 94% strength alcohol mixed with malt could be called Whiskey – i.e. blended whiskey. Irish distillers almost all died for this belief. Irish whiskey fell from 60% of World sales to 2% of Scotch sales. It is now back to about 8% of Scotch. It will continue to grow at a faster pace than Scotch simply because Irish whiskey appeals more than Scotch does to young drinkers and in particular to young female drinkers. The reason being modern drinkers like a sweeter drink. There has been a shift away from beer due to calories, Irish whiskey is sweeter and lighter hence attracts female drinkers.
What you drink in your 30s you tend to stick with so the future looks bright.
At the start of this interview we asked you where it all began. You've had an illustrious career that has spanned a number of industries. What's next for John Teeling?
What next? I have more opportunities now than ever. I don't have much time as I am managing the marketing side of GND until Q2 2018, when a marketing team will join me in the business. I am acting as an executive in 4 exploration cos, I have appointed 2 CEO's and am looking for two more in the Middle East.
This will give me more time to think and dabble more in exploring further what can be done with whiskey.