Business Voice Webinar Series
Past Event:
Wednesday, March 30, 2022
Following our Irish Business Voice Survey and corresponding report, we hosted a series of 3 webinars (details below), supported by local Chambers of Commerce in Ireland.
At the three webinars, our team of experts addressed the insights, uncovered by the report, on the issues facing businesses today and equip your business with the right tools and advice to move to the next stage of your businesses success, whatever that may be.
This report delves into which sectors have been hardest hit, and which have fared best. The analysis of the findings has been summarised into six key areas of note, where we explore three areas of deep concern for businesses, and how they may take action to mitigate some of their worst effects.
Past events:
23 March – Business Risk Management
Risk management is firmly back on the agenda, senior leadership teams seek to re-evaluate their approach to risk management on a truly enterprise basis. Fundamentally many businesses of all shapes and sizes have realised that they need to revisit their approach to risk management if they are to improve their operational resilience and enable their strategic and commercial endeavours. Keeping risk management simple is best and taking a holistic view of the what? why? and how? gives a business the best chance to exploit opportunities. Businesses that adopt this approach have the confidence of knowing they have boxed clever in managing potential exposures and can focus on the potential upsides. In this webinar we will share the principles, critical success factors and benefits of ERM and how it can empower and enable a business in managing its day to day operations and in enabling its strategic ambitions.
Catch up on this event:
See the slides from the webinar. [ 4192 kb ]
30 March – Business Processes and Efficiencies
The Irish Business Voice survey results showed that 76% of respondents were concerned to varying degrees about business process inefficiencies. Business process review encompass not only processes, but also people and technology which are key components in ensuring processes continue to meet their objectives in the most efficient and effective way. Our speakers will provide some key insights on process optimisation techniques and tools that you can use to complete reviews within your business.
See the slides from the webinar. [ 1919 kb ]
31 March - Recovery from the impact of COVID-19 – access to funding/restructuring
In this webinar we will look at the recovery from the impact of COVID-19 and the below topics:
Access to Financing
Restructuring
Tax – current compliance and audit readiness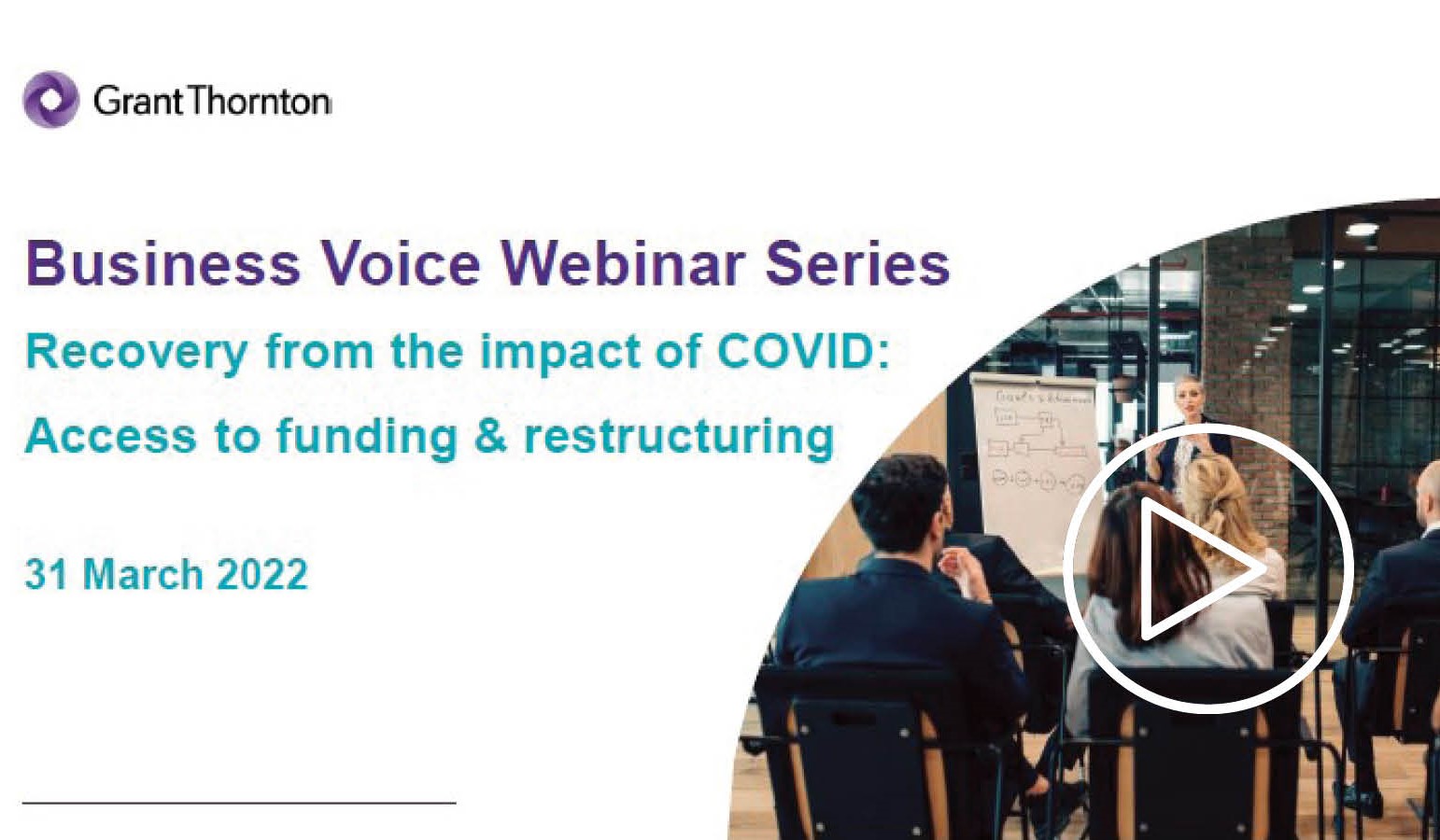 Subscribe to our mailing list
Update your subscriptions for Grant Thornton publications and events.